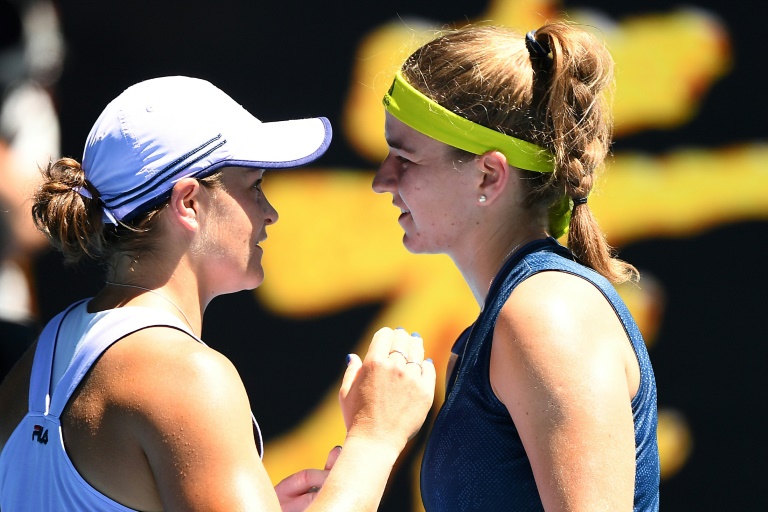 A set and 2-1 down, Karolína Muchová sits in her seat. Movement and muffling from behind a dark Adidas face mask shows she is addressing the two medicos hovering in front.
The one with the walkie talkie strapped to his pants catches her wrist among thumb and two fingers, feeling for a heartbeat that is obviously present yet has additionally been a lot of missing on Rod Laver Arena. The Czech 24-year-old has met her Australian Open match in Ash Barty, beat and outmaneuvered for the 24 minutes it took the world No 1 to guarantee the opening set.
Muchová had been coming to gracelessly at her neck, and something obviously warrants further appraisal. A temperature check, in any event, for she is worked up to Barty's cool and made. Moist to Barty's fresh. After the match she uncovers her "head was spinning".
Walkie talkie man peruses the mercury at that point gestures to his partner and the pair, both bearing rucksacks no uncertainty loaded with pieces and bounces for each circumstance, lead Muchová from the court and down the tunnel.
Barty's challenger is no more. Plainly, she has left the location of the butcher. However, she is likewise gone from an allegorical perspective. Nothing can turn this bloodletting around, this restraint of a quarter-last in which there is no space to move or air to inhale before the Australian world No 1 interferes with her break endeavors again.
This is reminiscent of Barty's opener against Danka Kovinić, the Montenegrin who dropped the initial set 6-0 and was twofold bagelled from there on. Muchová figures out how to maintain a strategic distance from this when Barty, who had hustled to 5-0 in the first subsequent to holding serve to adore, skilled Muchová a help game. The 2019 French Open boss made amends for those unforced mistakes very quickly with a passing destroyed the line well meriting a fast first-set victory.
An early break Barty's way in the second appearances the clinical break under way. Thus closes the first of two scaled down matches worked out inside the one. The second beginnings with Muchová reappearing and throwing – more like flicking – that dark Adidas cover on her seat. Something has moved during those 10 minutes.
Barty doesn't exactly have the foggiest idea what yet, and is likely still not altogether sure when Muchová breaks her serve. She perks up to this reorientation on losing seven of the following eight games, and horrendously mindful all through a choosing set entanglement, swimming mysteriously more profound at 2-0 down, at that point 3-1 and, at last, 5-2 and getting to save her competition.
Barty doesn't do dramatization like this. Be that as it may, dissimilar to the past imperfection free exhibitions, this one is not, at this point in her control. Muchová changes over her first match point with an expert, an immaculate completion to an unrecognizable second part of a challenge enduring an absolute one hour and 57 minutes.
A cadence lost, a breakdown unbefitting an eventual victor. Barty's face understands clear. So do the set of experiences books, as the neighborhood Australian Open singles title dry season reaches out to a 44th year.
Muchová as well, notwithstanding her close legendary resurgence, nearly shrugs her shoulders at the benchmark. Subsequently, she says she was not harmed.
"I started feeling a bit lost by the end of the first set, she played almost like no mistakes," she says afterwards. "It was very tough and I was a bit lost on the court and my head was spinning so I took a break. It helped me. I tried to get back, played a bit faster rallies so we don't play the long ones as in the first set and it worked well."
A benevolent Barty, jabbed and pushed by media chasing for a response, will not fault her adversary.
"It's within the rules," Barty says. "The's within her rights to take that time. If she wasn't within the rules, the physios and the doctors would have said so. That's the laws of our game, that we have those medical time-outs for cases that are needed. Obviously she needed that today.
"I've played a lot of matches where there have been medical time-outs. I've taken medical time-outs myself before, so that shouldn't be a massive turning point in the match. I was disappointed that I let that become a turning point. I'm experienced enough now to be able to deal with that."
Muchová will play her semi-last against Jennifer Brady after the American conquered various mistakes to endure three sets against compatriot Jessica Pegula on Wednesday.