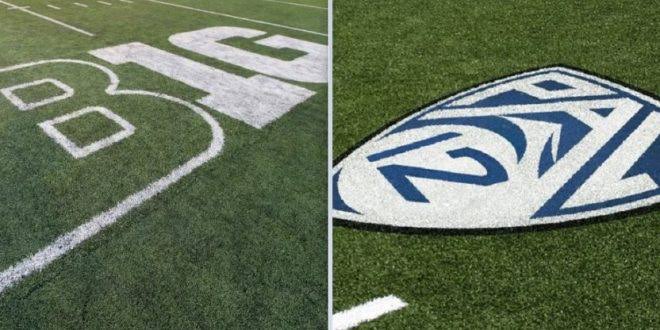 Despite the fact that there were desires throughout the end of the week that the Big Ten and Pac-12 would drop their individual fall 2020 school football seasons this week, the gatherings said Monday they presently can't seem to go to any choices. The two gatherings have separate gatherings scheduled for Tuesday that are relied upon to incorporate conventional votes about how to push ahead.
Power Five officials met on Sunday to talk about the practicality of playing the season in the midst of the coronavirus pandemic. Sources disclosed to CBS Sports' Dennis Dodd that the gathering was recently booked with the chiefs set to meet again Monday. It isn't known whether that Monday meeting occurred nor what explicit conversations may have been held.
In any case, on Tuesday, it is normal that presidents and chancellors from the Big Ten and Pac-12 will meet with their particular meetings to decide on whether to drop the 2020 school football season and potentially endeavor to play in spring 2021. The meetings could likewise decide to postpone their seasons or make no move and continue as booked.
The ACC "absolutely" means to play this fall, as indicated by Dodd, while SEC magistrate Greg Sankey has called for tolerance in taking note of that his meeting has been steadily settling on choices all through the COVID-19 pandemic. The SEC has given no sign it has plans to drop its season. The Big 12 is supposedly separated on whether to play, as indicated by Sports Illustrated.
The Big Ten will be the main gathering to meet Tuesday morning, likely followed by the Pac-12 and Big 12.
The Detroit Free Pressand radio host Dan Patrick detailed Monday that the Big Ten has everything except chose not to push ahead with playing school sports of any sort this fall. Despite the fact that Patrick gave an account of his show that the Big Ten held a vote with class presidents selecting by a 12-2 edge to not play this fall (Nebraska and Iowa were allegedly the dissidents), a proper vote was not taken, as per Dodd.
Big Ten mentors including Ohio State's Ryan Day, Michigan's Jim Harbaugh, Penn State's James Franklin and Nebraska's Scott Frost have freely upheld for playing the 2020 season. The Pac-12's mentors and athletic chiefs met with athletic chief Larry Scott on Monday night, as indicated by The Athletic's Bruce Feldman.
Supposition all through school football entering Sunday night was that the Big Ten and Pac-12 would without a doubt drop their seasons this week. Be that as it may, the blend of candid mentors and the #WeWantToPlay X #WeAreUnited development that grew abruptly late Sunday may have affected leaders, basically the college presidents.
For a considerable length of time, it was accepted that if any Power Five meeting chose to punt first on playing school football in the fall, it would be the Big Ten. All things considered, this was the meeting that reported longer than a month prior it was moving to a gathering just timetable for the fall.
The Big Ten turned into the primary gathering to make such an alteration in a move that caught off-guard their Power Five brethren. Notwithstanding, quite promptly, different meetings eventually made comparable moves but with shifted setups and anticipated beginning dates.
In spite of the fact that abrogations have been occurring at all degrees of school football, as of late did they influence the 130-group FBS. UConn was the first FBS group to call draperies on a fall 2020 season, while the MAC was the first FBS meeting to cancel playing fall sports. Old Dominion on Monday turned into the main individual from a FBS meeting (Conference USA) to drop its season, while the Mountain West joined the MAC as the second FBS gathering to punt on playing this season.