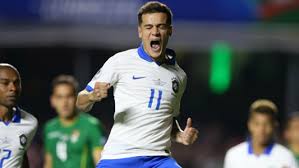 The 2019 Copa América began on Friday night with a solid debut from the top favorites: Brazil ruled Bolivia on their way to a simple 3-0 win at the Morumbi Stadium. Barcelona's Philippe Coutinho had a Man of the Match performance and two goals, and keeping in mind that this was a simple win against the most noticeably terrible team in the tournament the Seleção still indicated for what reason they're favorites.
FIRST HALF
The theme of the first half was Brazil's powerlessness to assault a strong Bolivia defense, which set up on a tight and sorted out 4-4-2 with the two strikers striving to hurt Brazil's initial passing. With Fernandinho instead of Arthur and a poor Casemiro game, Philippe Coutinho was the main imaginative player in midfield and it was simple for La Verde to close him down. The front three had next to no service, and just Roberto Firmino attempted to move around the last third and link up with teammates.
Bolivia couldn't generally inconvenience the Brazilian barrier and Alisson didn't have to make a spare, yet at halftime they were simply very content with how the game was going. For the Seleção, just one shot on target in spite of 77% belonging was extremely frustrating, and they needed a lot of improvement to win the second half and the game.
SECOND HALF
The second half began with eight incredible minutes for the home team: Adrian Jusino was required a handball in the case following a VAR survey, and Coutinho had no issue scoring from the spot to give his country the lead. Only three minutes after the fact Firmino got himself alone on the conservative and played a ravishing cross to Coutinho, who effectively headed home his and Brazil's second.
Bolivia made substitutions after the goals attempting to bring some peril to the Brazil barrier, yet they simply didn't have any genuine ability to make issues. The Seleção didn't generally amp up the weight yet at the same time attempted to get another goal or two, and substitute Everton scored a fantastic one with a rocket from outside the box into the top corner.
The last whistle arrived at end a decent performance and a simple win for Brazil. Regardless they have to play better and they'll have harder tests in the gathering stage, yet it's a nice win for the Seleção.
Brazil: Alisson; D. Alves, Marquinhos, T. Silva, F. Luís; Fernandinho, Casemiro, Coutinho; Richarlison (Willian), Firmino (G. Jesus), Neres (Everton)
Goals: Coutinho (50', 53'), Everton (85')
Bolivia: Lampe; D. Bejarano, Haquín, Jusino, M. Bejarano; Saavedra (L. Vaca), Justiniano, Sucedo (Wayar), Chumacero; Castro (R. Vaca); Moreno
Goals: None