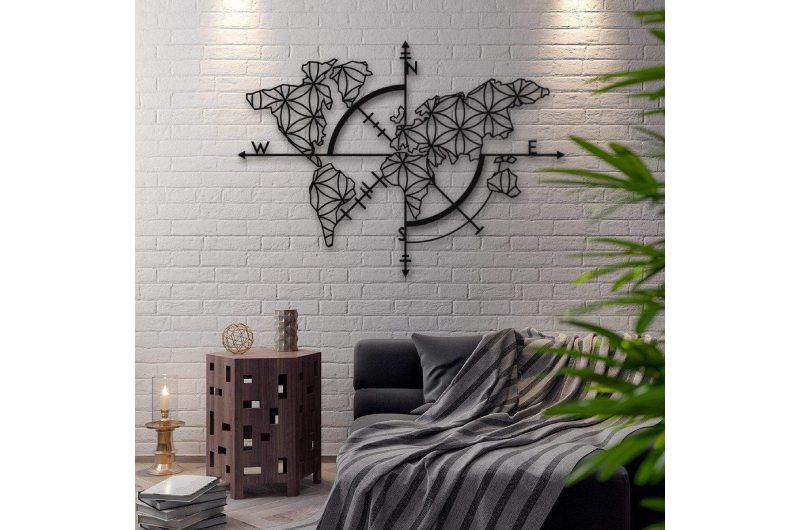 A metal world map, you say? Where would you possibly have had seen something like that? Well, if you have not witnessed something like this before, Northshire brings you an excellent demonstration of precisely that.
Metallic wall art has become somewhat a popular subject these days with more and more people relishing the rustic look. The unique metal look offers a chic and elegant look to any living room space. Metallic wall art comes in many shapes and sizes, which you can adorn in the living room or the outdoors.
A Metal World Map Wall Art
So, we have looked at the world of metallic world art and maps in general. How do these two fit in together, you may ask? Northshire has brought the world map to your living room space via a unique ornamental fashion.
The rustic and minimalistic look of a metallic decoration is capture by this world map made entirely of metal. The black color of the metal makes it more appealing as it adorns the living room space with some panache.
Metal Map of The World
Northshire dubs this metal map of the world as the map of life, and it truly symbolizes just that. The intricate piece of metalwork shows different continents of the world in a rather distinctive manner. The flowery metalwork looks easy on the eyes while maintaining a level of detail that is impressive in itself.
The Map of Life – Metal World Map Décor
As previously mentioned, Northshire has excelled at creating an intricate piece of the art form that will surely please any watcher. What works for this metallic embellishment is the contrast it gives with the generic white walls. The black finish makes the décor of the living space, a little bit more nuanced.
Some specs for you to keep in mind
This map of life – metal world map comes in two different sizes. One is the smaller 39.7" by 27.5" version, and the other being the larger 52" by 38" size. The fitting of the world map is such that it protrudes about 1cm from the wall of placement.
The ornament is handmade and has a chic textured surface for a more rustic impression. It comes in black dyed coloring; however, you can order custom colors with an added expense your way. The item is easy to install as you just need to hang the two pieces included in the package with a single nail.
The world of arts and décor is littered with great spectacles, including many forms. One such excellent example is the metallic world art shaped like a metal world map. Northshire provides just the item to grace your living room wall with the perfect ornamental metallic wall art.
This metal world map is elegant, sleek as well as gives off a minimalistic impression. You can add pictures to the places you have visited, like a travel map that acts as a to-do list or a places-visited map.
For orders, please visit the following link: https://northshire.co/products/metal-world-map