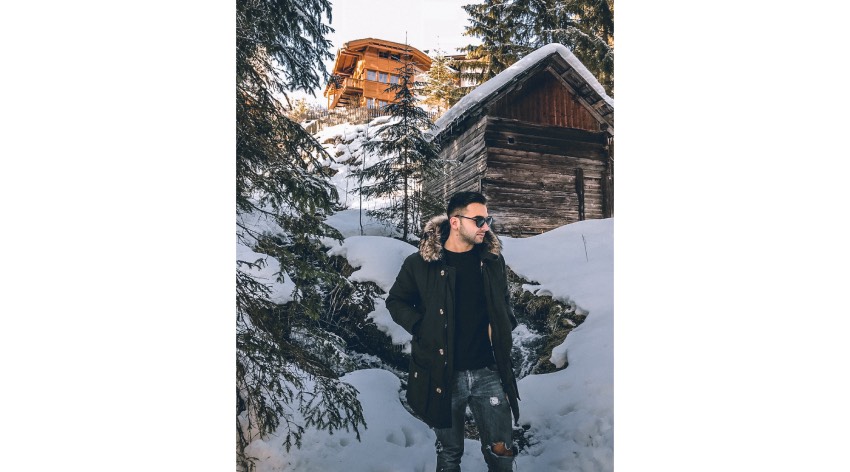 Michelangelo Azzariti is a 29-year-old professional photographer and influencer from the Puglia region, Italy. He went from being an ordinary bartender to being one of the most sought after photographers by fashion bloggers in Italy. His work as a photographer has taken him all around the globe. Today, Azzariti has an active Instagram following of over 75,000. He is also working on his YouTube channel that is continually growing by the day. He has worked with dozens of luxury hotels and travel websites around the world, earning him vast experience in the field of photography. Azzariti is now a renowned travel-influencer. He attributes his success to the passion he has for traveling, and the desire to tell his fans about the places he visits. I had the chance to speak to him about how he became one of Italy's fastest-growing photographers. Here's is what I found out.
Getting into Photography
Photography has always been of consequence in Michelangelo's life. Traveling ever since he was a child, Michelangelo was always discovering cultures and immersing himself in people's lives before he knew he could make money out of it. To him, photography developed out of his desire to capture the environment in which he was living and store it in the form of beautiful pictures. Coming to think of it, Michelangelo might never have turned his passion into a thriving business, were it not for the opportunity he saw in social media. All this while Michelangelo was traveling through Italy and destinations beyond his homeland, he would continuously share his best shots on Instagram. People were beginning to notice his talent. Before long, Michelangelo's pictures began appearing on social media pages of famous fashion bloggers and the official Instagram page for Italian Tourism. Apart from the many people and institutions that appreciated Michelangelo's work, some wanted to know more about traveling from him. Over time, Michelangelo landed writing gigs on travel blogs and contracts by prominent tourism destinations for marketing services. Today, Michelangelo is one of Italy's most significant travel influencers.
Leveraging Social Media Attention to Become Big
Social networks like Instagram, Pinterest, Facebook, and many others are already considered social media platforms for photographers. Many try out their luck out there, but professional photographers have a great advantage. Michelangelo's fortunes changed when famous Italian fashion blogger, Giulia Gaudino showed interest in the work he was posting on Instagram. Michelangelo took photos of Giulia and her boyfriend or their trip to a UNESCO world heritage site, which garnered over 30,000 likes on her Instagram account. To Michelangelo, social media opened up an entire world of possibilities beyond personal profiles. His photography and the way he uses Instagram to accentuate his art are amazing in so many ways, and there are hundreds of lessons that you could learn if you follow him and watch what he is doing.
How to Grow as a Photographer
We tend to forget what people ultimately love. We want to display perfection when perfection depresses people in the long run. Sometimes, we even want to show negativity and profoundness when that is tiring for anyone in time. We end up neglecting unadorned old authenticity that makes people relate and be happy almost all the time. Michelangelo Azzariti isn't afraid to be authentic, to answer questions, to share his stories, to be himself. He loves beautiful photography but does not care about seeming perfect; he cares about showing who he is. That is how you bring the greatness out of you as a photographer. It all lies in who you are as a person, your perspectives, and the unique style you use to communicate them.
Michelangelo also advises new photographers to engage their fans and followers on social media continually. He doesn't only showcase his work and expect the fans to comment and engage. He always reaches out and responds to his followers' inquiries. He gives a sense of openness and shows how approachable he is. You should do the same as well. Don't shy away; be a friend to your audience.
Michelangelo does not only make it as a travel influencer. He is ready to share his experience, knowledge, tips, and tricks, and that's what adds value to his work.
Don't miss to follow him on Instagram – https://www.instagram.com/michelangeloazzariti/