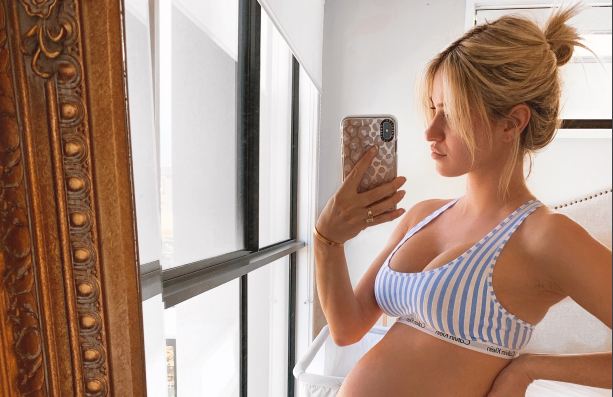 Giving birth is an eye-opening experience in many ways. For Sapphiroula Condoleon, trying to lose weight post-pregnancy was much easier than she initially expected. After suffering from Endometriosis, the now 25- year old mother underwent conservative tissue removal surgery at the age of 23 to help her chances of becoming pregnant in the future. After falling pregnant with her first child several months after the procedure, the Melbourne based model, blogger, business owner and mother to her son Georgii reveals she gained a little over 20kg during her pregnancy.
Before getting pregnant, Sapphiroula weighed 53kg. This weight increased to 75kg during her pregnancy. Post-pregnancy she now weighs 55kg. Here she reveals exactly how she managed to take the weight off and tips for expecting mothers.
Sapphiroula reveals the key to her weight loss was intermittent fasting. 'Trying not to eat after 7 pm', she says.
The blogger, 25, swears by a meal plan that primarily encourages intermittent fasting and cutting down on sugar. This means she eats all her food in an 8-10 hour window every day.
Sapphiroula, who lives in Australia with her husband and son, reveals she does not count calories, tries not to eat too much meat, cuts out sugar as much as possible and tries to finish eating by the 7 pm. The purpose of this is to let the body digest everything. In addition to this, Sapphiroula likes to go for walks every morning and night as well as take part in light Pilates.
The trend of fasting is also popular with many other celebrities including Jennifer Anniston, Kim Kardashian, and Rosie Huntington Whitely. Many studies show that intermittent fasting can cause weight loss, improve metabolic health, protect against disease and perhaps help you live longer.
Sapphiroula recommends expecting mothers to walk during their pregnancy and to not overindulge. She also suggests 'getting back into light exercise soon after giving birth'
You can follow Sapphiroulas journey on Instagram @Sapphiroula_