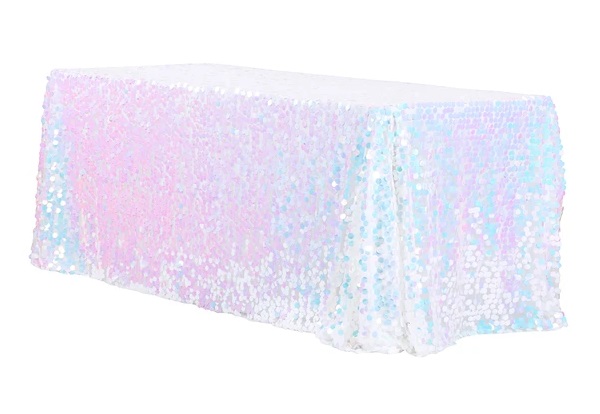 They're the Party circuit's unsung heroes. Whatever kind of party you go to, whether it's an anniversary celebration, bar mitzvah, wedding, graduation, etc., you'll find a tablecloth there, covering up the banquet tables and making a coordinating and seamless display throughout the hall. These are some of the most useful devices that can be used by a party planner, catering service, or banquet hall to protect their assets and even to hide any wear and tear on older equipment. So, let's give his due respect to these humble workhorses. We're going to talk about some of their prominent strengths, and why businesses are coming back to them again. Hopefully, we're also going to make it easy for you to find out what tablecloth would fit best for you.
The vast range of tablecloth sizes
A walk through any large showroom of party table linen would show the vast range of tablecloth sizes out there. Whatever type of table you have, there is a napkin to suit. When it comes to banquet and function tables, the most commonly used types are round and rectangular, whether it's your portable supplies or the ones that are already found in the event hall. Such sizes are useful and adaptable, so many commercial tablecloths are not necessarily geared towards these shapes. Out there you can find covers designed to work for round 10′ and 11′ diameter sizes, along with for tablecloths cut to match 6′ or 8′ long tables. However, you don't have to be constrained by width with rectangular tables, as you are with the circular ones. Tablecloths can easily be stacked or lined up next to each other to cover tables for longer. And if you're concerned about the seams appearing on the overhang, with a table skirt you can easily repair this.
Table skirts and decorative overlays
The tablecloth itself should perform its tasks admirably, keeping your table well covered and offering a smooth, clean surface for displaying objects. But still, you want to give the extra touch to your banquet tables. That is where the accessories are coming in. The table skirts and decorative overlays are some of the more well-recognized accessories that can enhance tablecloths. Table skirts extend around the table's bottom and are mostly kept up by transparent clips below the tabletop. Although the sizes of these cannot match all tables, to build one unified tabletop, you can easily use any of them to cover up a larger table or a long line of several tables. Table skirts also allow you to create a secret but accessible storage space underneath on buffet or bar tables.