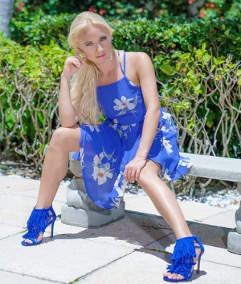 Joanna Heath is without a doubt one of the most fashionable actresses/models out there. From brunches to dinners to weddings and beaches, Heath never disappoints with her fashion choice! This makes her a fashion icon for so many. So if you have an event coming up and need inspiration for your outfits, keep reading for tips on how to look stylish like Joanna Heath!
When in doubt wear black!
A woman can hardly ever go wrong in black! If you doubt this, check out Joanna Heath in this lovely all black outfit above. Her makeup and accessories are all kept at a minimum yet the look is so stunning, she can easily draw attention when she walks into the room! This look can be recreated for work, meetings and any other corporate event. Complete the outfit with black loafers and you're all set to go!
2. Give flowery patterns a chance
Flowery patterned dresses are often simple, light, yet elegant. They are also very feminine as they come in lovely catchy colors like blue, pink, yellow, green, lemon and even black. Pairing a flowery patterned dress with matching shoes like the actress/model in the picture above will have you standing out in a crowd! While you can play safe by recreating this exact blue look by Joanna, you can also try it out in a different color. This look is perfect for brunch, lunch dates, or hangouts with your friends.
Lace is a girl's best friend
Lace is a girl's best friend and Joanna Heath sure knows this! In the image above, you can easily see how her blouse stands out with its high neck and sheer sleeves. Lace is flattery and delicate. When paired beautifully (e.g. with the patterned skirt worn by the actress/model), you can find yourself making a fashion statement! Complete this look with a nice purse and light makeup and you're all set for own fashion show.
Experiment with metallic outfits
Most metallic outfits have a subtle air. While the outfit may have a combination of colors, the colors are neither too loud nor too dull –instead they are just perfect. So if you're a woman who likes looking lovely without drawing too much attention to yourself, then metallic dresses might just be the best choice for you. You can glow and shimmer in a colorful metallic dress like Joanna Heath does in this outfit! Metallic outfits are great for weddings, dinners and other formal celebrations.
Denim on denim
The denim on denim look is one that has been in existence for decades and will not be going out of style any time soon. While you can choose to button up your denim jacket, you can also wear a white camisole in like Joanna Heath in this picture and leave it unbuttoned. Denim on denim always looks better with a white inner shirt. When paired with matching stilettoes the look becomes fitting for parties, hangouts and any other casual get together you can think of!
Joanna Heath is an actress and model who inspires other women with her style. For more on Joanna's style, you can check out her movies on IMDB or her website today!