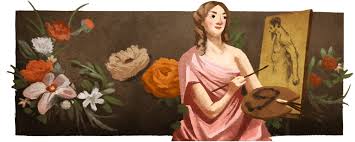 Today's Doodle celebrates the Belgian artist Michaelina Wautier, born 415 years ago. Although many of Michaelina's paintings of art were once misattributed to different artists, including her own sibling, she's presently known as "Baroque's leading lady."
Michaelina Wautier, also Woutiers, was a painter from the Southern Netherlands. Recently has her work been perceived as that of an extraordinary female Baroque artist, her works having been recently credited to male artists, especially her brother Charles.
On this day a year ago, the authoritative monograph on Wautier's work was distributed by two institutions in Antwerp—Rubenshuis and Museum aan de Stroom—who additionally teamed up to grandstand the main ever Wautier review, a display of somewhere in the range of 30 works that shed new light on "mysterious Michaelina."
Contemporaries of Flemish experts like Rubens and Van Dyck, Michaelina and her more youthful sibling Charles Wautier experienced childhood in a wealthy family, moving around 1640 from their origin of Mons to Brussels, where they lived in a stately townhouse close to the Kappellekerk. Neither sibling married, devoting themselves to painting.
While exploring her brother, art history specialist Pierre-Yves Kairis found Michaelina's work, struck by her authority of picture, historical paintings, and type pieces during when female painters were, as he put it, "at best tolerated for painting flowers." During her lifetime, she impressed prominent patrons like Archduke Leopold-Willem, who collected four of her paintings.
Her huge scale work The Triumph of Bacchus, broadly thought about her magnum opus, offers a look at the artist's character. Michaelina painted herself into the scene, disguised as a half-naked bacchante, staring boldly at the viewer without apology.