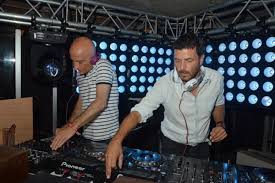 French DJ Philippe Zdar has died after accidentally falling from a building in Paris.
The 50-year-old, real name Philippe Cerboneschi, fell through a window on a "high floor" in the capital, his manager Sebastien Farran affirmed.
In a statement he said: "He made an accidental fall, through the window of a high floor of a Parisian building."
No further details were given.
Zdar was one half of dance duo Cassius, which he formed with Hubert Blanc-Francard in 1996.
The duo produced for artists including Beastie Boys, Franz Ferdinand and Phoenix for which they were awarded a Grammy in 2010 for the indie pop group's fourth album.
Radio DJ Lauren Laverne was among the first to pay tribute, and vowed to play Zdar's tracks on her BBC6 Music show.
"Absolutely tragic news to wake up to this morning," she tweeted. "We'll pay tribute on our @bbc6music show in the coming days. If there's track you'd like to hear or a memory to share let me know here."
American DJ the Black Madonna praised Zdar for being a "visionary" of modern dance music. "RIP Philippe Zdar, a visionary and tectonic force who shaped the geography of modern dance music," she posted. "I am so sorry to the many friends who mourn his sudden and terrible loss tonight."
Zdar is survived by his daughter Angelica Zdar who he shares with French actress Aure Atika.