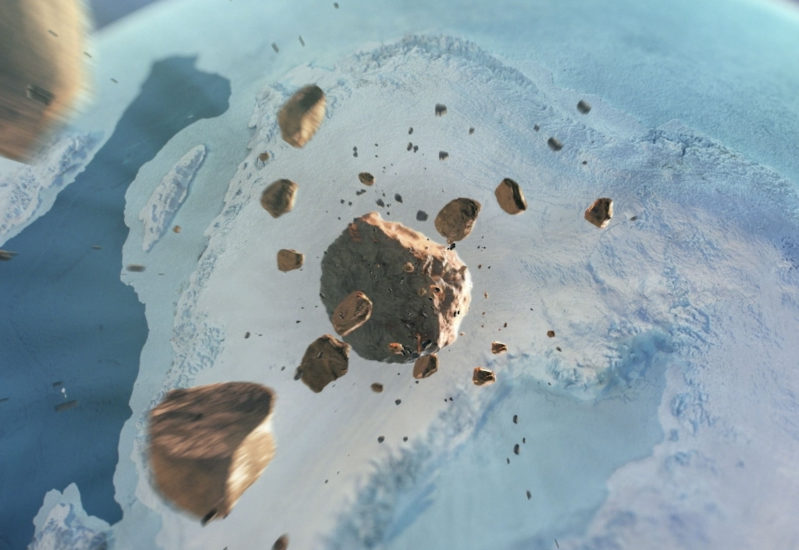 Only months subsequent to uncovering an effect crater the size of Washington, D.C., buried under the ice of northwestern Greenland, a group of researchers has found that it has organization: an expansive despondency 180 kilometers away that may likewise be an asteroid or comet sway cavity.
Quite a while back, after specialists recognized the first cavity stowing away on display under Greenland's Hiawatha Glacier, they started to scour satellite records and ice-penetrating radar profiles for other circular distortions. Profiles from NASA's IceBridge research flights uncovered a 36-kilometer-wide, bowl-shaped depression surrounded by a rim, with a gathering of raised peaks in the center taking after the inspire left after an asteroid or comet strikes Earth's surface.
Be that as it may, in contrast to the Hiawatha cavity, the basin hasn't yet yielded stunned quartz crystals, viewed as the best proof of an extraterrestrial effect. The basin seems disintegrated and loaded up with ice older than Hiawatha's crater, the two of which recommend that, on the off chance that it is a crater, it likely originated from an alternate effect.
Despite the fact that that may appear an implausible coincidence, other unrelated effect pairs have been found in Ukraine and Canada. What's more, the rate of cosmic collisions expected to accomplish such an incident is conceivable, given ongoing examinations outlining an uptick in Earth's bombardment by extraterrestrial objects in the course of the last 300 million years.