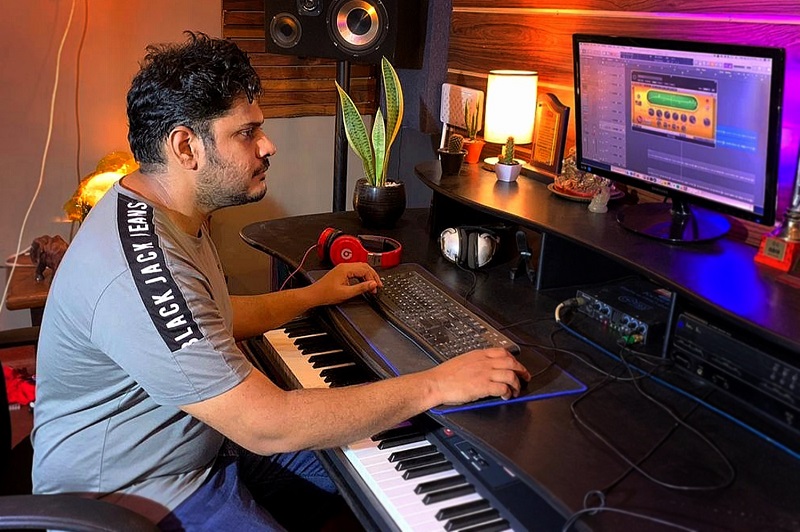 Sanjit Lucksman is a Sri Lankan Tamil independent Music Composer, Singer and Sound Engineer who won Sri Lankan National Awards for best music composer in 2016. Mostly he produces Indian pop, Filmi music, RnB & Hip hop.
He started to learn Indian Classical Music from age 4 years. In his childhood he was a bass drum player and then he had been in SMC band. Moreover he had learnt Indian classical music from Miss. Shanthatheivi and accomplished 2 levels in theory and practical exams. And also he learnt Western Music Guitar from Mr. As. Paaiva and learnt classical violin from Mrs. Vathsala. Afterwards he completed Sound Engineering and Music Technology at D-media from Music composer/Sound Engineer Diron Fernando. In addition, he has got sound engineering training from sound engineer Thorsten Muller, Germany.
Further more he is highly qualified professional with extensive experience as a music composer/sound engineer with over a decade of experience in arranging and creating musical pieces. Hands-on knowledge of sound editing software, dub matching, digital audio recording and mixing equipment with experience handling a wide variety of programs to compose and revise music.
Moreover he has confident and adventures enough to dive his music careers head first. Especially, he has nominated as best male singer and best male folk singer and won many national awards, and have received more national level certificates for his dedicated work and for his achievements in musical industry and projects and documentations.
Spontaneously he has worked more than 200+ Including independent songs, devotional songs and also more than 50 Short films as a music composer and Sound Designer.
His achievements are given below:

Awards
Best Music Composer – Sri Lanka State Music Awards 2016 " Katre en vaasal " Song
For the Service in Music – " Ilam Kalaignar " Awards 2017 by department of Cultural Affairs, Eastern Province
Best Song of the Year – " Balumahendra Awards " 2015 " Haiku Nilavey " Song
Best Song of the Year – " Ruthram awards " 2015 for " Marapachi bomma "song.
Best Music Composer – " Vels Awards " 2014 for " Appa " short film
Nominations
Best Male Singer – Sri Lanka State Music Awards 2011/2012 for "Pattam poochi" Song
Best Male Folk Singer – Sri Lanka State Music Awards 2011/2012 for "Pattam poochi" Song
independent Songs
Kaatrey
Uyirin vaasam – Batticaloa district anthem
Meera – " Uyire thenam unna "
Haiku nilave
Sontha oorey sorkam
Thalattu padum
Cover Songs and Mashups
Anirudh Hits Mashup
Adithya varma Cover song
Kanave Kanave x Kannazhaga | Anirudh Cover
Sathiyama Naan Solluren di | Mugen Song
Othaiyadi Pathayila | Kanaa | Anirudh Cover
Bigil – Singappenney Cover
Short films as music composer/ Sound desinger
Unfriend – Abhishek Charan
Muthamizh | ( Muppattan murugan )
Oru Kinniyin Kathai | ( Muppattan murugan )
History of tasmania
thavaminri kidaitha varame
The Real Freedome – Radio Mirchi
Appa
sitchai
Mobila – Venuka R
My Wedding Day – Mohan Kumar (Telugu india)
Passmark – Vivian Trishan
Furthermore, he's willing to work hard and educate himself in media field. Obviously he dosen't wait for opportunities to come, he seeks them out and create them himself. Nowadays he does cover songs and also has done more cover songs that they have reached high level in Social Medias and have collaboration with local artists. And also he has been working as a musician for You Tube Channel of India, Radio Mirchi Channel, Muppatan Murugan, History Symbols and Web series too. In addition, he is joining upcoming Kollywood film industry soon.
Music resonates within the human spirit. At the heart of humanity is a song of the soul. It continues to inspire spiritual expression as sound reflects and affects faith and values. Certainly, his passion of music will be continue…..
Social Media Handles
Instagram – https://www.instagram.com/sanjit_lucksman/
Facebook – https://www.facebook.com/sanjit.lucksman
Youtube – https://www.youtube.com/user/sanjitluck/videos
Spotify – https://open.spotify.com/user/31ujznjrvadwdasuke2hvnv6kx2q?si=vulRznRGTlmfZpzeJtGbwA
Twitter – https://twitter.com/sanjitluck