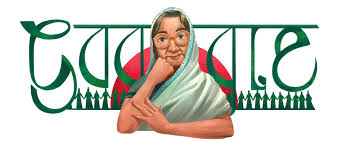 Today's Doodle celebrates the 108th birthday celebration of a fearless advocate for Bengali culture who championed the women's rights movement in her homeland of Bangladesh.
The 108th birth anniversary of poet Sufia Kamal will be observed today.
A pioneer of Bengali women' emancipation, Sufia Kamal, additionally founder president of Bangladesh Mahila Parishad and Chhayanaut, was born on June 20, 1911 at Shayestabad, Barishal.
Since women' education was prohibited during her childhood, she couldn't get academic education. She took in various languages from her home tutors.
Much to anyone's dismay then about the inactive potential in the young girl that would transform her into a noteworthy cultural icon in the nationalist movements of the 1950s and 60s and an important civil society leader in the independent Bangladesh.
Sufia's life is exciting and awe-inspiring. She played multiple roles as she reeled from emergency to emergency until she found her true calling: as a socially conscious litterateur.
In 1918, Sufia went to Kolkata with her mom where she came to meet the individual who might motivate her throughout her life, Begum Rokeya, the celebrated feminist writer and social worker.
Sufia's first poem, Basanti (Of Spring), was published in 1926. But her literary career took off more than a decade later when with the publication of her first collection of short stories, Keyar Kanta (Thorns of the Keya Tree), in 1937, and a year later, her first book of poems, Sanjher Maya (Evening Enchantment) was published. The latter bore a foreword from Kazi Nazrul Islam and attracted praise from the likes of Rabindranath Tagore.
active in the language movement of 1952.
She took part in the movement to protest the embargo on Tagore imposed by the then government in the late 1960s. She was also involved in the mass-upsurge of 1969 and the non- cooperation movement of March 1971. She also renounced the 'Tamgha-e-Imtiaz' award given to her by the Pakistan government.
The state honoured her with the Independence Award, the highest civilian honour, in 1997.
Sufia Kamal passed away on November 20, 1999.