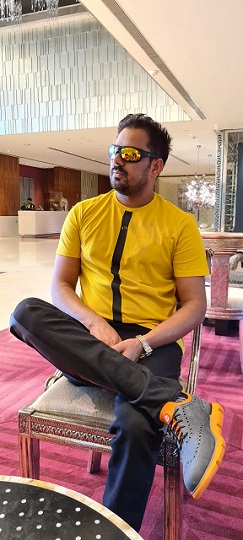 Mohammad Zaid Khalid is a real estate developer who comes from a small town of Prayagraj and dreams of making the most out of his life. Now we come across hundreds of stories everyday about people wanting to make big in their lives but only a few stands true to their aspirations. What makes Zaid unique is that he did not let his circumstances define him, he took charge of his life and started his journey to the horizon of success. He was well aware that the journey will be challenging and he will have to face every hurdles and obstacles but he had the strong-will to overcome them and today he has a strong hold and a firm foot set in the real estate industry and does not plan to rest, but instead he works harder every new day.
Just after he finished his schooling from Air Force School, Bamraoli, he desired to begin his venture into the industry and start his business. He was determined and curious to dive into the ocean of endless possibilities but when his parents made him realise the importance of completing his education, he understood the weight of the situation and went on to complete his graduation from Dayal Singh College, Delhi University. Once graduated, he started working in his father's dairy and reinvented a more sophisticated, efficient and proficient version of it. In a few years he managed to gain greater profits and increased production in the dairy with a newer and easier organization and after that he decided it was the correct time to start the foundation of his business after he had the required experience.
Zaid noticed how real estate was on its peak back then and he was quick to act on this. He invested the money, that his father gave him as a kick start for his business, on various properties after rigorous market evaluation. He has a faith instilled in him that the reason his business has been expanding since is the fruit of his goodwill. He considers it his duty to help as many underprivileged people as he can to facilitate their schooling, medical attention and marriage. When it comes to leisure, Zaid likes to spend his time reading and listening to music and he maintains his fitness and health through body building as well. With a strong resolution and hunger for success, he continues his journey on the ladder of success and triumph.