Three High School Students Help Cancer Patients Combat COVID-19 with Grassroots Mask with a Message Campaign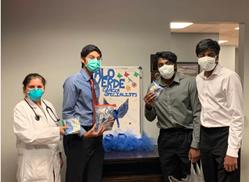 As the world continues in the face of the COVID-19 pandemic, healthcare workers are selflessly risking their lives to save the lives of others. Stories of their heroics are common and yet still do not cover the breadth of their sacrifice.
However, there is another group of people that also needs attention–cancer patients. This already vulnerable group faces an impossible choice: stay home and hopefully stay free from coronavirus, or leave home to receive life-saving treatments.
A recent Lancet study reveals that immunocompromised cancer patients are nearly five times more likely to develop severe complications from COVID-19 in comparison to the general population. According to the CDC, cloth masks have been endorsed to limit spread amongst contagious but asymptomatic people. Mask usage is one of the CDC's primary recommendations to flatten the curve.
Three local high school students knew this and saw an opportunity to jump on the challenge. Arjun Moorthy (17), Roshan Pillai (17) and Arun Moorthy (15), initiated a community-driven program, the COVID Supply Initiative (CSI), with the goal to provide masks to every cancer patient in the valley.
Instead of taking a break when their school closed, these young men went to work. They are collecting homemade and donated masks to distribute at cancer centers across Phoenix to patients undergoing chemotherapy.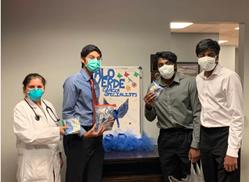 "We've always looked to help our community," Pillai said, "and we knew that we couldn't sit idle while people suffer." Motivated to help as many as they could, they soon partnered with large oncology groups and began to distribute masks to Honor Health, Virginia Piper Cancer Center, Ironwood Cancer Center, and Palo Verde Cancer Specialists.
A group of women with breast cancer were among the grateful recipients. One patient reported, "It is very touching and impactful to know someone is thinking of me and those who are like me. This act of generosity gives me hope for the future generation watching youth be proactive in their community". Seeing the smiles on their faces definitely was motivation for us" says Arjun Moorthy. Infact, one woman commented why this act of generosity was even more important today. "Many of the support groups are closed, and I feel alone going through my journey. Family members are no longer allowed in with me during my treatment, and it gets lonely."
CSI took these words and decided to broaden their impact. They often hand out masks in-person to patients undergoing chemotherapy and take the time to talk with them. They have also begun including motivational messages with each mask that communicate hope and faith. Messages like "You are a fighter", "Cancer may have started the fight, but you will win it".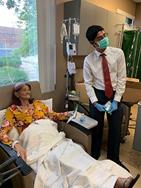 The masks have been well-received and patients are often seen smiling when they read the adjoining messages. Some have even reported that for a few minutes when they see the messages, they almost forget where they are sitting.
The teens say the most unique aspect of the mask collection has been how many of the mask donations come from people who know someone undergoing cancer treatment. "The concept of 'pay it forward' really applies," commented Arun Moorthy.
It is true that everyone should be using personal protection gear. However, cancer patients are already on a difficult journey that has been made more life-threatening by the COVID-19 pandemic. Dr. Abhishek Patel, medical oncologist at Virginia Piper Cancer Center explains "if patients going through chemotherapy get the virus, they have a higher risk of Intensive Care Unit admissions and death. Therefore, masks are an important tool for protection."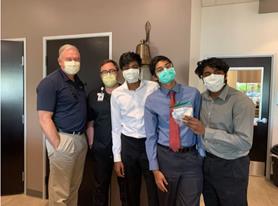 CSI is growing, and they plan to donate masks globally through both local collections and a mask-pairing program with an inspirational message for every patient. They'll accomplish this lofty goal through a program called Mask Pair.
"We are contacting oncology centers domestically and internationally to let them know there is help and hope," says Mr. Pillai.
"We want to make mask donation as easy as a click of a button. People with extra masks can go to our website, find where they are needed, and then send directly there," says Arun Moorthy.
This is not the first time these boys have worked for the benefit of their local community, and it likely won't be the last. Readers with an interest in CSI's movement can go to covidsupplyinitiative.org and donate with a message under the Mask Pair program. Local mask pickups can be coordinated by emailing [email protected]
Combining innovative visions and creativity as an Italian artist and digital entrepreneur to offer uniqueness to people is Kevin Sacchi.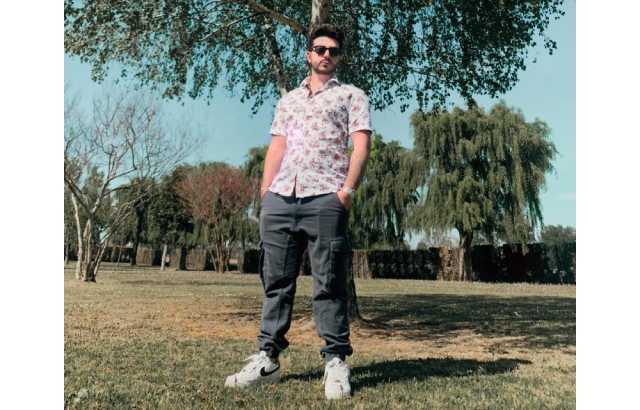 Kevin Sacchi with his brands KS Digital Force and Kevin Sacchi Brand cross boundaries and earns respect and recognition with over +1million on Instagram.
A closer look around us will let us know how things have been changing across the world. This also opens our eyes to the tremendous growth a few industries and sectors have been making, thanks to the relentless drive and incessant hard work of a few young talented beings. How could we not mention about Kevin Sacchi, when it comes to the world of digital? The digital space, be it in business or music is one which is driven by the incredible ideas and efforts of young professionals like Kevin Sacchi, who keep working around creating innovativeness and keep winning hearts of the people they serve.
The 22-year-old artist and digital entrepreneur today shines bright with his growing presence in the digital world, with +1million on Instagram alone. Kevin Sacchi is known for his out-of-the-box ideas and strong visions, which are all aimed at enhancing people's experiences through his work. In music, he has enhanced the experiences of listeners through each of his songs that exude his unique vibe and zealousness as an Italian singer, songwriter and producer. He is known as the Father of the Balkan Hits for a reason, as he effortlessly immersed the Balkan melodies in the Italian music space, importing a new genre in Italy and becoming the first-ever Italian artist to do that. His songs Human Race, Gold Rain, Last Master, Mister Balkans, Mister Worldwide, Trip to Russia, Trip to Dubai, Blue No Cap, Mente da Star, and Mister Manele, all have dragged him to the forefront of the music scene in Italy in a short period.
Apart from making his name as an Italian artist, Kevin Sacchi has astonished people with his business talents as a digital entrepreneur with his ventures KS Digital Force and his recently opened clothing brand Kevin Sacchi Brand. KS Digital Force was initiated in 2019. It has already become a trusted digital agency, which has so far managed over 300 accounts, leading big companies, businesses, brands, individuals, artists, entrepreneurs and many others to their desired growth and success levels in their respective industries. With Kevin Sacchi Brand, he is trying to redefine fashion as a luxury brand with a contemporary approach.
All-in-all, Kevin Sacchi proves his passion for the digital realm, where now he is looking forward to do much more as a young Italian talent.

Site: www.kevinsacchibrand.com
US gas costs back close to record highs, pounding drivers
US drivers preparing for their warm climate excursions are set to experience new record high gas costs this week as expansion keeps on pounding family spending plans.
The public typical cost of a gallon of gas was $4.328 starting around Monday evening, as per AAA information. That cost was up around 20 pennies contrasted with one month prior and well over a dollar higher than that very the very beginning year prior.
The expense of gas is inside a negligible portion of the unequaled high settled in March, when the public typical hit an extraordinary $4.331 as the Russian attack of Ukraine made disturbance worldwide energy shipments.
In New York, gas costs have proactively hit another record. The statewide cost of standard gas was $4.518 – almost 30 pennies higher than one month prior – while diesel hit a silly $6.383.
"Expanding gas interest and rising oil costs have pushed siphon costs higher. Siphon costs will probably confront up tension as oil costs stay above $105 per barrel," AAA said in a blog entry specifying the cost flood.
Oil costs drifted close $110 per barrel last week as the European Union gauged a potential restriction on Russian energy shipments in light of the Ukraine war. A potential ban additionally overturned an energy market that was at that point fighting with supply concerns and interruptions connected with the COVID-19 pandemic.
US raw petroleum costs directed somewhat on Monday, sinking almost 7% to $102 per barrel during a sharp selloff on Wall Street and worried about recharged COVID-19 lockdowns in China.
The Labor Department's latest Consumer Price Index from March showed the degree to which gas costs are adding to expansion.
The March CPI flooded 8.5%, its most elevated yearly rate beginning around 1981. That very month, gas costs rose 18.3% — an increment that represented the greater part of the month to month expansion flood.
Costs are probably going to keep moving in the near future.
"While drivers loading up with fuel have seen a slight ascent in costs, diesel's flood will be a one-two punch as diesel costs will before long be given to retail channels, further pushing up the expense of products," GasBuddy investigator Patrick De Haan said.
Why a Chatbot Is Crucial In today's Online Business World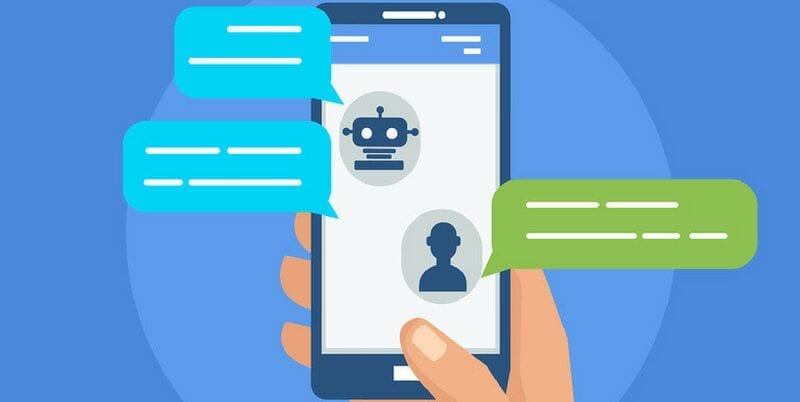 Today's marketing and sales teams are under tremendous pressure to not only display results, but also to continue to improve customer experience. It's a big job. Not to mention the increase in expectations for today's consumers (aka, the Amazon result).
Today, we expect immediate answers and expect them to be accurate. This can be done with people up to a certain point of comment, then technology should be the answer. That's why forward thinking brands have adopted chatbots to help them.
Guide Users to Better Results
Customers do not always know where to go to get the information they like. In fact, your customers may not even know what they are interested in. Maybe they just heard the name of your product and decided to check it out. . By asking a series of relevant questions, you are directing users to the best place to find the information they are looking for with the best chatbot.
Think about some of the questions you will ask that will lead your visitor to the best solution. These questions vary depending on the type of business, but some common ones are:
What problem are you trying to solve?
What are your goals?
Where are you located?
Which door are you in?
What industry are you in?
Would you like personal support?
Think of an international organization as an airline. Among the departure points, landing points, possible upgrades and a host of ticketing locations, there are almost endless combinations of numbers to buy.
By making the chatbot queries your own, those airlines guide customers to the best way to buy and create better user experience.
This seamless user experience makes the complex planning process easy for both the user and the business.
Produce the most qualified directors – It would be great if we could talk to all the leaders and make sure they are equally fit before we plan a meeting. In fact, that is impossible for most organizations to do on a scale. The chatbot can help use the improved fitness mindset to do the leading qualifications and improve the speed of sales.
Combat Customer Churn – Chatbots are the perfect answer to high volume support questions, especially where customers are frustrated with the general basics of information that are difficult to filter.
This limitless and memorable user authentication ensures that your users will think about your bots the next time they ask questions like what is a chatbot.
Automatically performing this initial interaction allows users to share the information needed so that the agent can provide them with better help without having to ask anyone. For example, the Drift website chatbot fits the possibilities and collects their email addresses for the seller to track.