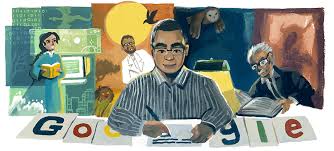 A famous Egyptian author, known for his contributions to Arab horror, Ahmed Khaled Tawfik, is the focal of Monday's Google Doodle, for what would've been his 57th birthday celebration.
Ahmed Khaled Tawfik was born on June 10, 1962, in Tanta, Egypt. he was born in a house loaded with books. His dad had a library of various books, and he grew up reading them. Inspired by the books he read, he began writing adventure stories from the age of 10.
In any case, he felt that it would not be the right decision to proceed with his life by composing just books, and he went to medical school. An successful student life, Ahmed Khaled Tawfik earned a Ph.D. in tropical diseases. He continued his academic career, and he became a professor at the school he graduated from.
He kept his writings on the shelves for a long time and sent a portion of his attempts to publishers when he trusted the time had come. In January 1993, his first works, Ostorat Masas Al Demaa'a and Ostorat Al Rajol Al Tha'eb, were published and received great acclaim.
Notwithstanding his responsibilities and duties at Tanta University, he likewise wrote more than 500 books during his writing career. Ahmed Khaled Tawfik said he started writing because he could not find horror and sci-fi novels written in Arabic. Ahmed Khaled Tawfik is considered one of the pioneers of Arab literature on his age. He passed away on April 2, 2018, and is remembered as one of the most prolific writers of his time.
Paranormal, one of Ahmed Khaled Tawfik's novel, will be adapted as a television series by Netflix. Egyptian director Amr Salama will direct the production.
Today's Doodle, which was prepared for Ahmed Khaled Tawfik's 57th birthday, featured some of the main characters of the author's famous novels, and Ahmed Khaled Tawfik was portrayed as he was writing a story at his desk.