Diddy threw most Lit NYE party featuring Elvisa Dedic, Kayne West, and many more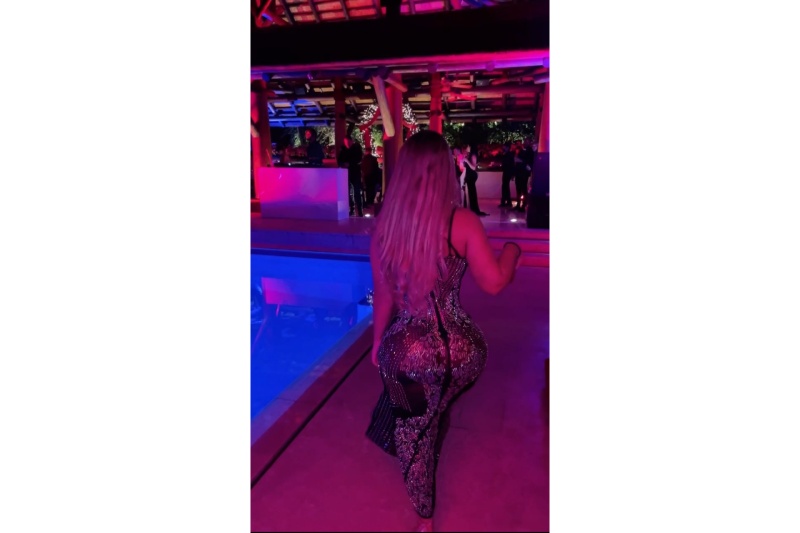 Although Paparazzi earlier claimed that Sean Combs aka Diddy's mega New Year's Eve event was canceled owing to fears over the newest outbreak of COVID-19, and Yung Miami herself shot down any talk when questioned about dating Diddy only a few days ago, both appeared very much on and popping for New Year's Eve.
Diddy organized the hottest New Year's Eve party and invited numerous significant celebrities such as rappers, Instagram influencers, models, and so on. When superstars such as Diddy's sweetheart Yung Miami, Kayne West, French Montana, Quavo, and cherished Elvisa Dedic were sighted at the party, the atmosphere grew even hotter. Furthermore, Joie Chavis and Daphene Joy were seen having a good time at the celebration. Click here to watch a brief video of the celebration.
Elvisa Dedic shared her amazing party appearance with her friends and followers on Instagram, making them fall even more in love with her. She shared a brief video clip from the celebration in which she is dressed elegantly in a black and silver gown, glamorously embracing her body features with her pretty waist. Elvisa Dedic drew the attention of her followers once more by appearing stunning. There is no particular backtracking or explanatory caption for the post, only lavishing and sumptuous sensations drawing people.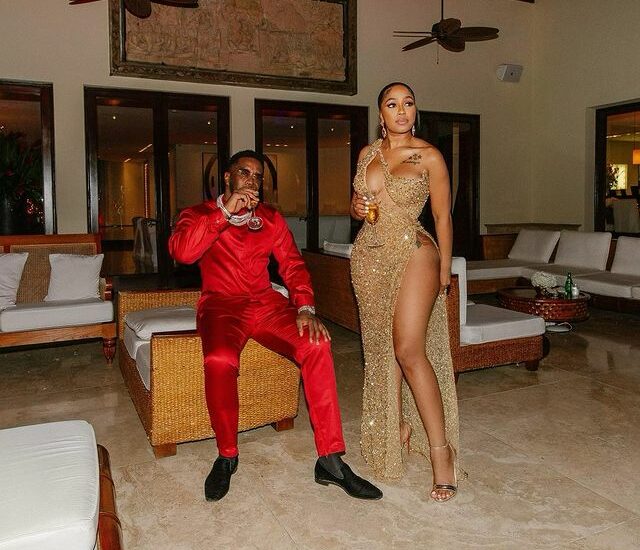 This isn't the first time Elvisa has surprised everyone and made them fall for her charms. Elvisa Dedic is a stunning bosnian model, viral Instagram influencer, and successful entrepreneur who has been captivating audiences for many years. Her professional career began with modeling, which she quickly mastered. Elvisa Dedic earned thousands of fans who adored her content after displaying the remarkable talents of her beauty interest on social media. Her Instagram account is full of vibrant beauty material that she uses to inspire young girls about fashion and beauty. Her posts went viral several times.
Not content with that, Elvisa Dedic demonstrated her talent as an entrepreneur, claiming that it had always been her ambition. She had aspired to be a trademark since she was a youngster. She founded her own cosmetics firm, Elvisa Cosmetics, which she now leads as CEO. She is also a brand ambassador for the well-known fashion firm Fashion Nova.
Elvisa Dedic's success may be gauged by the New Year's Eve party she attended. Being invited to a party attended by celebrities like Kayne West, Diddy, and Yung Miami is not something to take lightly. Her influence enabled her to shake hands with such high-profile celebrities.
Check out Elvisa Dedic's Instagram for additional information.
Bijoy B K walks his path to gradual success and glory as a true-blue music artist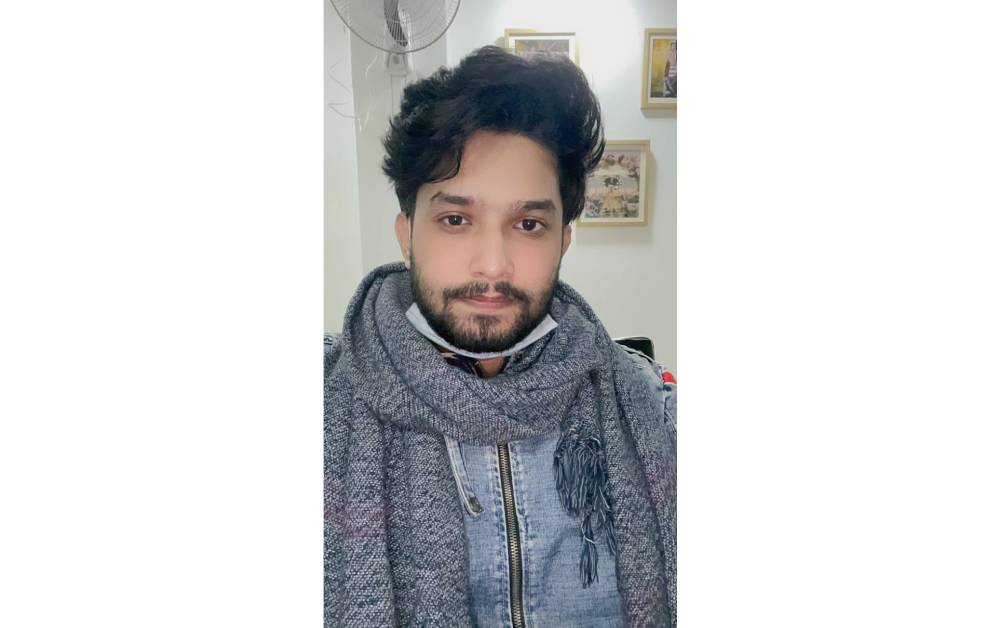 Even as a youngster, he has shown his A-game in the music realm, inspiring many other budding talents.
The world has witnessed the rise of too many talented beings working across different industries of the world, but there have been a few rare gems that have shone brighter than the rest and have proved their mettle in more ways than one. It is essential to put more light on these talented beings, who mainly belong to the younger brigade and who go ahead in instilling more hope, positivity, and motivation in others to do and be their best. Doing that in the world of music has proved to be an altogether different challenge, and still, there have been self-made music artists like Bijoy B K who have made it all look effortless in their music art.
Bijoy B K today stands tall and unique as a one-of-a-kind music artist who has gone ahead truly astonishing people in Bangladesh with his euphonic sound as a vocalist and his innate musical skills as a modern-day music artist in the nation. The 1995-born in Dhaka, Bangladesh, today has risen beyond being a songwriter, singer, and performer and has also shown his excellence as a YouTuber. He studied at the University of Rajshahi, Bangladesh, and it was only in 2020 that he felt more inclined toward music, which changed his life since.
He began learning music composition and making instrumental music, and honing his skills constantly today has turned him into an independent artist. He debuted with a song in March 2021, and now all his songs are available on top streaming sites of the world, like Spotify
With songs like Night Drive, Life is like a long road, A sound like cloud, River valley of dream, The mid night poll, Drummer boy, Short beats – 1st, Epic evening, On my way moderate and Instrumental soft – instrumental version, he has indeed won hearts of listeners and music lovers, especially with his recent release Jony Khandaker's popular music video 'Poran Bondhu,' which has helped him garner massive momentum and name in the Bangladeshi music scene.
Besides being a rising music artist, he also owns his own company Bijoy B K Limited (https://bijoybk.com/), through which he has emerged as one of the top digital marketers in Bangladesh.
There are many new exciting projects that the young talent is working on in music, and can't wait for listeners to hear them.
Bipasha Basu posts their first photo together and provides a sweet recipe for her preparation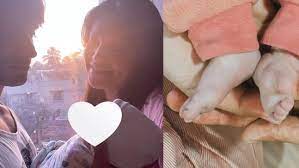 After welcoming daughter Devi, new mother Bipasha Basu shared the first family portrait on Instagram. In the caption, she provided her "recipe for making a sweet newborn angel." However, the actor added an emoji to the baby girl's face.
Devi is being held by Bipasha and her actor spouse Karan Singh Grover in the picture. The couple's cheeks were beaming as they couldn't take their eyes off of their infant. At dusk, the photo was taken from a balcony.
Bipasha added, "Our recipe for making a darling newborn angel," as the caption. 1) One quarter cup each of you and me; 3) A half-cup of Ma's love and blessings (4) Topped with greatness and magic 5) Three droplets of the essence of the rainbow, angel dust, unicorn sparkles, and all that is divine.
6) Seasoning: Adorable and delectable according to taste
On social media, they shared their daughter's name and the news of her birth in November. Bipasha shared a picture of Devi's feet along with the date of the baby's birth, 12.11.2022, and her name, Devi Basu Singh Grover. She wrote in part, "Ma is divine and she is the physical manifestation of our love and blessings.
At Karan Johar's Mumbai eatery, Sonam Kapoor dazzles in a blue ensemble while Aryan Khan and Ananya Panday dress up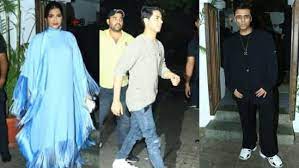 At the Neuma Restaurant in Mumbai's Colaba, Sonam Kapoor, Aryan Khan, Ananya Panday, Shweta Bachchan, Rhea Kapoor, Karan Johar, and Shanaya Kapoor were spotted. On Friday night for a dinner party, a number of other celebrities were also seen at the location, including Manish Malhotra, Sharvari Wagh, Seema Khan, Tripti Dimri, Maheep Kapoor, Nandita Mahtani, Dhairya Karwa, Neha Dhupia, and Angad Bedi.
Sonam dressed appropriately for the event with a long sky-blue dress and white heels. Before entering the eatery, the actor posed for the photographers. A light brown hoodie, jeans, and sneakers were worn by Aryan Khan. He arrived at the location, parked his car, and then entered the restaurant.
When Ananya Panday came at the restaurant wearing a short red bodycon dress and white heels, she struck many postures for the photographers. Rhea was spotted wearing a black pair of pants, a dark purple blazer, and matching heels. Shanaya Kapoor arrived at the restaurant sporting a white dress and neon green heels.
In addition to this, she will be starring opposite Siddhant Chaturvedi and Adarsh Gourav in Farhan Akhtar's Kho Gaye Hum Kahan. The official release date of the movie, which is being directed by rookie Arjun Varain, is still pending.