Jack DeBrabander Explains How He Leverages His ADHD to Achieve the Impossible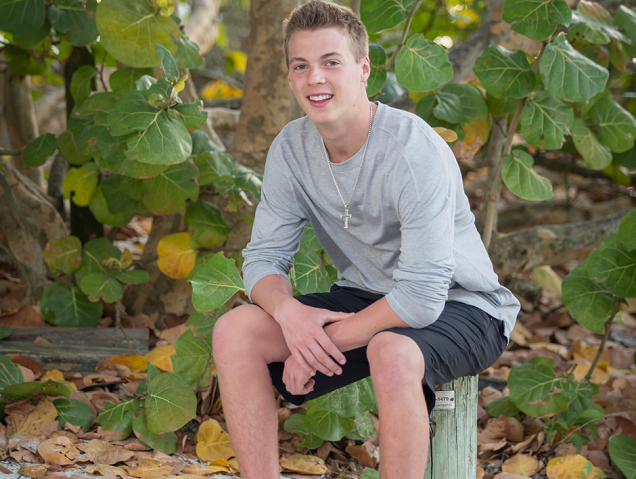 What is it that drives most people to be an entrepreneur? Is it the allure of limitless income? Is it the ability to finally call their own shots and the thrill of being their own boss? Or is it because when they're the one in charge, there's nobody who can get in their face when they fail?
While most entrepreneurs would never admit to the third reason, for those who have been diagnosed with ADHD (Attention Deficit Hyperactivity Disorder), the thought of not having to say sorry for making another mistake is pretty enticing! It's obviously shortsighted to think that if they fail, they won't have to feel guilty about letting at least one person down. Someone, their customers, the bank, their friends and family, or even a spouse who bought into their grand dream, will be wanting answers on why they didn't deliver. More often than not, it's the thought that they will eventually let someone down again that keeps many would-be entrepreneurs from pulling the trigger and actually moving their business idea from concept to implementation phase. This is a real concern for many would-be entrepreneurs, and for most, the reason why they never make it past the starting gate.
Ask Jack DeBrabander, a young entrepreneur who was diagnosed with ADHD at a young age. "Being diagnosed with ADHD always gave me troubles with grades. Having to take Adderall (a stimulant to help treat ADHD symptoms), is the worst thing anyone could ever imagine." However, he didn't let that diagnosis stop him from pursuing his goal to become an entrepreneur. He continued, "I have learned how to cope with the drug…and am ready for the real world."
According to a 2017 article published by the Mayo Clinic, the three main features of ADHD in adults may include but aren't limited to, the following: difficulty paying attention, impulsiveness, and restlessness. Now, at first glance, these "symptoms" look like a recipe for disaster for anyone looking to start their own business. Surprisingly though, it's these things that set entrepreneurs with ADHD apart from their non ADHD counterparts and may actually be a blessing in disguise.
A 2012 interview with Dr. Johan Wiklund, professor of Entrepreneurship at Syracuse University's Whitman School of Management was quoted as saying, "People who have ADHD might gravitate toward entrepreneurship and the flexibility it offers. Further, they might be successful as entrepreneurs not in spite of their ADHD, but because of it. " Dr. Wiklund explained how the lack of attention isn't the best quality for someone looking to go into business for themselves. But rather the other two traits, impulsiveness, and restlessness which lend themselves to better business acumen. He went on to say that it's this impulsivity, to "act in the moment" that makes people with ADHD better entrepreneurs.
A report by UBS and PwC called the 2019 Billionaires Report said that "billionaires' appetite for smart risk-taking, business focus, and determination are what help them build and sustain their wealth." This mirrored what Dr. Wiklund found when he studied some of the most successful entrepreneurs with ADHD. He found that their "lack of premeditation (acting first, and then thinking afterward)" led them to take risks that many non-entrepreneurs would be unwilling to make. Other studies have shown that many of the most highly successful business owners have already begun to act while others are still in the information-gathering phase. It's also here where restlessness, translates into a desire to keep moving forward, and never being complacent with their current position, contributes to the never-ending drive of an ADHD entrepreneur.
People with ADHD do suffer from a lack of concentration, and it is here where we see one final dichotomy of the ADHD entrepreneur. The first is that even though they do struggle with the ability to concentrate, they somehow possess the "superpower" of being able to hyper-focus on what they feel is interesting or important at the moment. According to Dr. Wiklund, these super-distracted people are the same ones "who need to set a reminder on their phone telling them that it's time to eat" because they are so caught up in a task at hand that they "focus and forget" about everything else going on around them. This ability to grind non-stop, and put in those extra hours, are what make ADHD entrepreneurs even more successful than their undiagnosed counterparts.
Lastly, the lack of being able to focus doesn't stop the ADHD entrepreneur. They play (work) to their strengths and delegate to their weaknesses. Data entry, financials, or anything else deemed too mundane for the ADHD entrepreneur is shared among the other officers or workers within the business. Richard Branson, who is dyslexic and is also considered one of the most successful ADHD entrepreneurs out there, was quoted as saying "surround yourself with people who are smarter than you, empower them, and your business will thrive.
Ultimately, the key for a Jack DeBrabander, or any other successful entrepreneur with ADHD out there, is to see and accept themselves for who they truly are: a dichotomy of invaluable skills and manageable liabilities. In short, if the ADHD entrepreneur is willing to look at where they are weakest, and then delegating or hiring out for tasks in those areas, while at the same time, embracing the and playing to those strengths which come from their ADHD, there's literally nothing stopping him, or anyone else, from reaching all the way to the top!
Raha, the daughter of Alia Bhatt and Ranbir Kapoor, receives the cutest personalised quilt; see here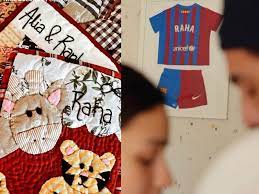 After welcoming a baby girl, Alia Bhatt and Ranbir Kapoor are embracing a new stage in their lives. While well wishes for the couple and their newborn daughter have been flooding in, their designer friend Anaita Shroff Adajania recently gave them a sweet gift.
Friday night, Alia posted a photo of some unique, handcrafted blankets to her Instagram stories. 'Alia & Ranbir' was written on one of those quilts, and 'Raha' was inscribed on the other. On blankets, there were also carvings of adorable creatures and infinity symbols. Alia thanked @anaitashroffadajania and @purkalstreeshakti for sharing the photo.
Later, Alia Bhatt disclosed the name of her little girl in a different post and explained why they decided to preserve the name "Raha". "The name Raha (selected by her amazing and wise Dadi) has so many lovely implications… Raha, in its purest form means divine path in Swahili she is Joy, In Sanskrit, Raha is a clan, In Bangla – rest, comfort, relief, in Arabic peace, it also means happiness, freedom & bliss. And true to her name, we felt everything from the first second we held her, she wrote.
Regarding her professional career, Alia most recently appeared in Ayan Mukerji's Brahmastra, which also featured Ranbir Kapoor, Amitabh Bachchan, Mouni Roy, and Nagarjuna in significant parts. With the upcoming film Heart of Stone, Alia will make her Hollywood debut alongside Gal Gadot, Jamie Dornan, Matthias Schweighofer, and Sophie Okonedo. Additionally, she is developing Rocky Aur Rani Ki Prem Kahani with Ranveer Singh for Karan Johar. In addition to these, she will appear on film in Jee Le Zaara alongside Priyanka Chopra and Katrina Kaif.
Movie Promo for Cirkus: Laugh Riot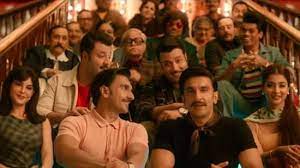 The Cirkus trailer has arrived, and it was well worth the wait. In the movie, Ranveer Singh plays two roles.
Ranveer Singh is first introduced in the teaser as an electric man in a circus. Ranveer, on the other hand, wonders why he feels this way and embarks on an investigation with his close buddy Varun Sharma.
The story takes place in a lively, boisterous, and colourful colony full with cartoonish characters. As Ranveer and Varun quickly realise that they have doppelgangers in the town, confusion quickly develops.
Add Johnny Lever and other actors' hilarious one-liners and a surprise cameo appearance by Deepika Padukone ( presumably in an electrifying dance number) to the mix and that is the Cirkus trailer for you. 
Coproducing the movie with Reliance Entertainment, Bhushan Kumar, and Rohit Shetty.
Kartik Aaryan brings his A-game to this terrifying thriller in the movie Freddy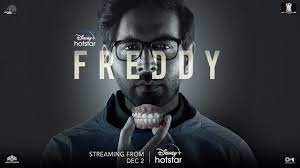 Freddy review: The Kartik Aaryan and Alaya F-starring movie doesn't seem stretched out or veers off course at two hours and thirteen minutes. The second half of the tale becomes a little predictable, but the movie still maintains its momentum.
I suppose that's why Kartik Aaryan's most recent film, Freddy, which will give you the chills, succeeds because it's dark, intense, toxic, and intensely toxic. The movie masterfully captures the complexity and eccentricities of Kartik's character by portraying him in a never-before-seen avatar. Shashanka Ghosh's suspenseful thriller Freddy will make you feel terrified, scared, and occasionally just creepy.
Without batting an eyelash, Dr. Freddy Ginwala (Kartik Aaryan), a 28-year-old introvert, recluse, and loner dentist, captivates you with his story of searching for his "soulmate" for five years on the matrimony website Meri Shaadi.com. After failing to locate a good match and being humiliated by a few prank calls, Freddy develops feelings for a married woman named Kainaaz Irani (Alaya F), who is trapped in a violent marriage.
When she needs to have a tooth extracted, she visits his dental office. After that, a series of things happen that bring the two of them together and cause them to fall in love. But this love story is about more than just the happy occasions, private encounters, and affection the characters have for one another.
The great twist at the halfway point and the climax are without a doubt the highlights of the movie and leave an impression on you. Freddy is undoubtedly a spine-chilling film to watch, with characters that are as complex as its plot. Currently, you may watch the movie on Disney+ Hotstar.