NEW WAVE OF ACTION STARS – TAZITO GARCIA
Taz Garcia is an award winning action film actor and director. Garcia is committed and serious about his journey since his teens. Aware of the journey and those that came before him, the actor is humbled by his seat at the action heroes table.
Garcia known for his intricate Hong Kong style fight scenes is passionate about doing his own action scenes and hopes to be able to use it in a superhero show or movie in the very near future. The accomplished martial arts champion comes fully prepared for the physical demands of work holding himself to a very high standard. The very talented actor was recognized in 2016 as the youngest recipient of the "Icon Award" in Los Angeles among greats such as Cynthia Rothrock, Ronnie Coleman, Don "Dragon" Wilson and Bob Wall.
Garcia has managed to carve out his own path by creating "The Briefcase" The film that earned the actor/director several awards and nominations internationally, notably "Breakout Male Action Star" and his action comedy Trailer "First Bust" earned him "Male Action Performer of The Year".
Taz can be seen co-starring alongside many greats such as Russell Wong (Romeo Must Die), Vincent Ward (The Walking Dead) and most recently Jackie Chan (Rush Hour). Taz known as the "nicest guy on set" just recently played a "not so nice" role opposite (Project Xtraction) stars John Cena and Jackie Chan.
Currently Taz has been teaching classes online, developing a few scripts and sharing his 20 years of martial arts by hosting "Zero to Hero" action seminars for all level actors that are looking to add action to their resumes.
For more info check out Taz on Instagram tazgarciaofficial
Priyanka Chopra was chosen over Mrunal Thakur in the Jai Gangaajal auditions: "What she did, maybe I wouldn't have…"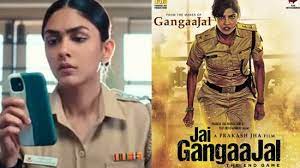 According to Mrunal Thakur, she had a tryout for Jai Gangaajal but was defeated by Priyanka Chopra. She believed that Priyanka handled the role in a manner that she was unable to.
In the suspense film Gumraah, Aditya Roy Kapur plays two characters for the first time, and Mrunal Thakur makes his acting debut as a police detective. Priyanka Chopra ultimately landed the part of the cop in Jai Gangaajal, though Mrunal could have played one early in her career. This was revealed recently by Mrunal during the promotion for Gumraah. The actor continued by saying that because Priyanka wasn't prepared at that time in her career, she was a better fit for the role.
Mrunal, who is a fan of Priyanka, told News18 at a gathering that she handled the Jai Gangaajal rejection well. She said, "Maybe I wouldn't have been able to do what she did in the movie at that time. I was not prepared. She gained insight into handling rejection thanks to the event. The follow-up to Gangaajal is called Jai Gangaajal and is directed by Prakash Jha. (2003).
In the Telugu romance drama Sita Ramam (2022), Mrunal last appeared alongside Dulquer Salmaan. She will also co-star with Nani in his upcoming Telugu film Nani 30 as well as the upcoming movies Pippa and Aankh Micholi.
Taapsee Pannu is demonstrating the most stylish way to wear our gold heirloom jewellery while wearing a red gown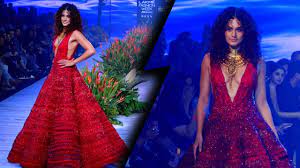 When was the last time you went through your jewellery box in your closet and chose some pieces to go with your outfit? Not recently, at least not that we can recall, unless it was a celebration or a wedding. Despite the fact that Indians like gold and value heirloom jewellery, these priceless items are typically kept in closets rather than worn around the neck. This is due to the hesitation people have about wearing customary heirloom jewellery, which is complex, hefty, and made of yellow gold, with clothing other than sarees and lehengas. Finally, the day has come when that appears to be altering.
Taapsee's jewellery options are also capable of readily changing shapes. She once wore a choker necklace with stones stacked over a chain and pendant. That worked well with delicate geometric earrings as well.
Taapsee kept it simple when walking down the red carpet, wearing just a set of stone-studded earrings with a gorgeous floral pattern. Her hair was tied back into a bun, highlighting her jewellery.
On their trip to Dubai, Ajith Kumar and his wife Shalini spent a romantic evening aboard a yacht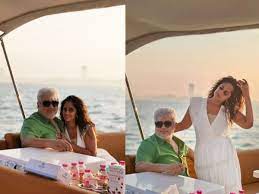 On the internet, there are images of Ajith Kumar and his wife Shalini enjoying a special evening on a yacht.
The actor Ajith Kumar, last seen in the Tamil film Thunivu, is currently vacationing in Dubai with his family. Shalini, Ajith's wife, published some photos from the holiday last week on her Instagram page, and people couldn't stop praising the lovely family. Two sultry images of Ajith and Shalini during the trip appeared on social media on Monday.
Ajith and Shalini appear to have enjoyed a lovely evening together when the two photos were apparently taken on a cruise. Heart emojis were commonly used by fans as a response to the image. My favourite power duo (sic), wrote one fan. Setting couple goals right (sic), according to another user.
Ajith recently finished his biking tour of several regions of North India. Among other destinations, he cycled through Kargil, Leh, Ladakh, Jammu, Srinagar, Manali, Rishikesh, and Haridwar.