Trump leads Biden by 5 points in National Polling Math – 10 Reasons Trump will beat Biden in a Landslide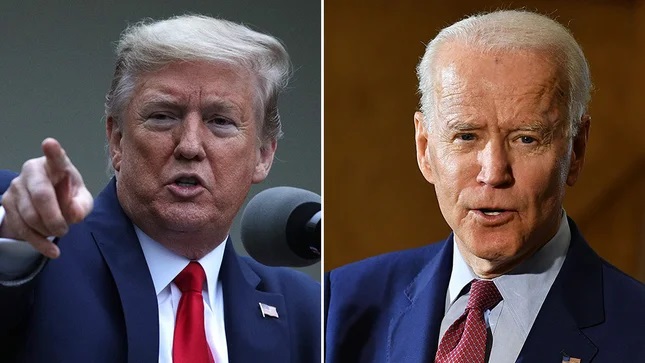 The only way to predict the 2020 election is to use the math from the 2016 election. The most accurate polls in 2016 were the IBD and the Rasmussen Poll.
National polls now have President Trump up 5 points from his polling numbers on election day 2016. Trump has 47% compared to the 42% he had in 2016.
One anonymous voter said, "I would never admit to wanting Trump in a survey". The voter implied that she is frightened that they might come hurt her or her children. Since protesters have been burning down churches, the Virgin Mary, and vandalizing Jesus and tearing down statues of Hispanic leaders such as Columbus, many voters are angry about the small 1% of the liberals who are leaning toward fascist styles of Communism and Bolshevism.
Using the 2016 math, Trump is set to win the same 30 states that he won in 2016, and will probably add Minnesota, Colorado and even Nevada.
10 More Reasons Trump Will Win
1) Trump's Vision – Trump's clear vision and policies have led to peace, prosperity, and no senseless wars. The creation of fair policies on immigration, trade, and energy independence have boosted the confidence of Trump voters and libertarians. Anyone can take 15 minutes to read President Trump's Mt. Rushmore speech and his July 4th speeches to better comprehend his long-term policies, strategy, vision, and mission.
2) The Secret Trump Voter: A Pennsylvania Monmouth Poll shows (57%) believe there are a number of so-called secret voters in their communities who support Trump but won't tell anyone about it. In 2016, that percentage was about 5% but it could be as high as 10% this year. The IBD Poll has Trump and Biden tied in May, and Biden up in July, but again, Trump voters are abstaining or not reporting.
3) No 3rd Party – There is no viable 3rd party candidate in Pennsylvania, Michigan, Colorado, Texas, Arizona, New Mexico, Minnesota, Florida, Ohio and many other states. Trump's Republican support appears to be up over 5% in averages since 2016 which is a huge amount of enthusiasm and republican votes.
4) Peace and Prosperity: After many years of war and waste of spending offshore, working folks want Trump to continue to invest money in the health system, education, and infrastructure.
5) Promises Kept: The president has followed through with his promises and has greater than 90% support in his party according to latest Gallup Polls up an average of 5% from 2016.
6) Ohio and Florida: In 2018, Republicans won the governorship of Ohio and Florida. This is important as turnout was down in 2018. However, in 2020, the suburban vote will turn out in full again to support mainstream worker candidates such as Trump. If Democrats can present a better case for working families, they may gain support, but only time will tell.
7) Trump Diverse Support at a High: Trump's support among workers and minorities including Hispanics and others has dramatically surpassed beyond Bush, Romney, and others. If Trump's minority support holds up next year, they will render Trump unbeatable in November of 2020. Trump is presently polling higher than any other republican with minorities.
8) Proof of Failed Media Polls 2016 – Major news organizations and their experts said that Hillary Clinton had a 91% chance of winning in 2016. These old media outlets unwittingly misled their readers for over a year with polling that was horribly flawed. Clinton and her allies lost several billion dollars in campaign money in the 2016 election.
9) Biden Health Problems – Mr. Biden can't participate in the debates with Trump due to ill-health. Biden had 2 brain surgeries and there seems to have been a later brain injury after 2018 due to a facelift or other accident.
10) Biden's pick for Vice President – Biden and his VP pick creates vast problems for all voters. A pick from California or Illinois adds nothing to his electoral potential. Even Senator Warren was caught taking minority jobs from Hispanics and African-Americans for almost 40 years before being exposed that she was not a person of color.
If history is a lesson, the competent Senator George McGovern lost in the biggest landslide in history to President Nixon in 1972. President Nixon won 49 states and 520 electoral votes, and George won 17 votes. Nixon won on a law and order platform which was dedicated to jobs, safe streets, health care, elder care and social security, environmental protection, mitigating crime, border control and stopping tainted drug death, ending senseless wars, & limiting nuclear proliferation.
With the US Senate in 2020, it is believed that candidates like Senator Cory Gardner will win 50% or more of the Colorado vote because there are no viable independent or alternative republicans on the ballot and his strong Hispanic & Italian support. Hillary lost the popular vote in Colorado and in various other states in 2016 while still winning the electoral votes. Also, republican on the ballot for Senator in Arizona and New Mexico could also win as Trump is simultaneously on the ballot and the alternate-republican candidates are not on the ballot this year who sucked up 3-9% of the vote in 2016. These 2016 independent votes lean republican and might saliently sting the democrats in 2020.
The 2020 Prediction ? As of today, based on the existing economic and global variables, Trump wins 32 states or more to win the presidency again in 2020. That would be the 306 electoral votes Trump won in 2016, plus 9 from Colorado, and 10 from Minnesota. Thus, a predicted win by Trump by 325 electoral votes for Trump to his opponent's Biden's 213 electoral votes. Trump could also beat Biden in New Mexico and Nevada also as those votes in these 2 states were very close in 2016 and 3rd party candidates boosted Clinton to win 5 states that she may have lost without the alternative 3rd party republican candidates on the ballot.
Citations and Sources
Tracking Poll – https://www.rasmussenreports.com/public_content/politics/trump_administration/prez_track_jul16?fullbrowser
Minority Support https://www.newsbreak.com/news/0OCpjylZ/tim-scott-predicts-black-support-for-donald-trump-to-increase-by-50-percent-in-2020
New York Times Experts say Clinton has 91% chance of Winning. http://www.nytimes.com/newsgraphics/2016/10/18/presidential-forecast-updates/newsletter.html
Secret Trump Vote – https://www.monmouth.edu/polling-institute/reports/monmouthpoll_pa_071520/
Joe Biden Brian Surgeries and Facelifts  –  https://www.washingtonexaminer.com/news/its-obvious-cosmetic-surgeons-say-biden-had-facelift-before-2020-campaign
Biden Brain Surgeries https://www.washingtonexaminer.com/news/campaigns/surgeon-who-operated-on-joe-biden-hes-better-now-than-before-brain-surgery
Nixon 1972 Platform – http://www.4president.org/brochu…/1972/nixon1972brochure.htm
Trump beats Romney with Minorities – https://www.forbes.com/sites/aviksaroy/2016/11/19/man-bites-dog-trump-did-better-with-minorities-than-mitt-romney-did-in-2012/#67a5b3bc35fd
Mary Simon officially becomes Canada's first Indigenous Governor General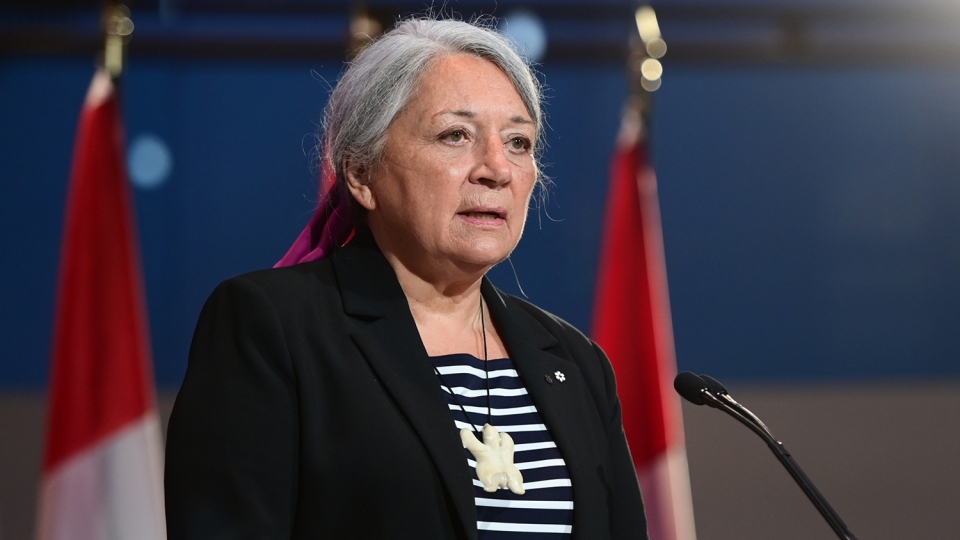 Mary Simon, an Inuk lady from Nunavik, turned into Canada's first Indigenous Governor General Monday during a function in Ottawa.
The Governor General is the Queen's representative of Canada and acts as the nation's head of state. It's a to a great extent ceremonial position, yet the Governor General's endorsement is the last advance before a government bill becomes a law.
Simon will likewise be answerable for dissolving Parliament before a election and for perusing the Throne Speech that outlines the government's legislative agenda before any new parliamentary session starts.
Prime Minister Justin Trudeau chose Simon recently to fill the opportunity made by the acquiescence recently of previous space traveler Julie Payette.
Payette left the Governor General post in the midst of charges of bullying and turning Rideau Hall into a toxic work place.
President Joe Biden assigns Los Angeles Mayor 'Eric Garcetti' to serve as U.S. ambassador to India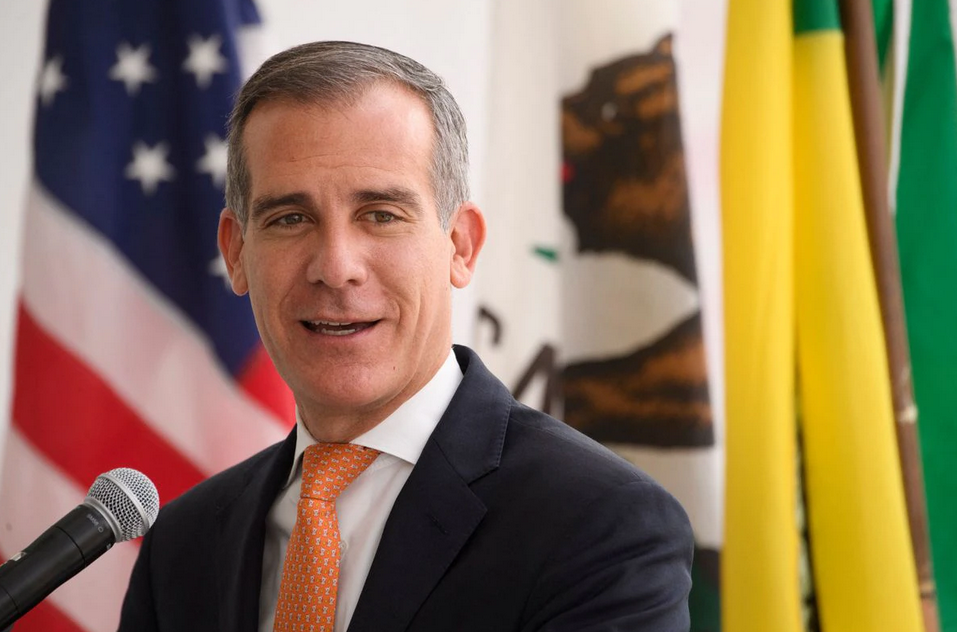 President Joe Biden has assigned Los Angeles Mayor Eric Garcetti to fill in as U.S. diplomat to India, finishing a very long time of hypothesis whether the two-term mayor hall leader would land a role inside the Biden organization.
"I am honored to accept his nomination to serve in this role," Garcetti said in a statement. "I love Los Angeles and will always be an Angeleno."
Whenever affirmed, Garcetti would be the first L.A. mayor hall leader in over 100 years to intentionally leave office, the Los Angeles Times revealed. Garcetti would show up in India when Covid cases keep on spiking, with 45,892 new Covid-19 cases detailed in most recent 24 hours, Reuters announced.
"I have committed my life to service — as an activist, as a teacher, as a naval officer, as a public servant, and if confirmed, next as an ambassador," Garcetti said in his statement. "Part of that commitment means that when your nation calls, you answer that call.
"And should I be confirmed, I'll bring this same energy, commitment, and love for this city to my new role and will forge partnerships and connections that will help Los Angeles."
In its assertion, the White House praised Garcetti for managing "the busiest container port in the Western Hemisphere, the largest municipal utility in the country, and one of the busiest airports in the world." The White House likewise noticed an effective bid for the 2028 Summer Olympics and Garcetti's obligation to the Paris Climate agreement.
California Sen. Dianne Feinstein, a Democrat, said Garcetti is an "excellent choice" for the post and cited to his 20 years of public assistance as a benefit to progressing relations with India.
"He has a firm grasp on a wide range of issues from immigration and the economy to environmental protection and the critical role of human rights," Feinstein said in a statement. "As the grandson and great-grandson of immigrants, [Garcetti] is committed to economic opportunity and justice for all, two bedrock American values that he will effectively champion in India."
Reports that the 50-year-old chairman and previous City Council president was in chats with the White House originally surfaced in the spring. Garcetti, whose father filled in as Los Angeles District Attorney from 1992 to 2000, was generally thought to be in the running as Biden's pick for transportation secretary, yet Pete Buttigieg was eventually selected and acknowledged the Cabinet position.
Soiled by a vagrancy emergency, a moderate lodging deficiency and lewd behavior charges inside his office, Garcetti would leave behind a blended record. He has been credited with building or broadening 15 new travel lines in a city notorious for traffic and guiding L.A. through the Covid pandemic.
However, a new claim asserts that a top Garcetti staff member bothered one of the civic chairman's guardians while Garcetti got over the conduct. The civic chairman has over and again denied the cases.
Independently, a previous appointee civic chairman was arraigned on debasement accusations in a continuous government investigation, The Associated Press revealed. Also, in June, Garcetti requested his boss from staff to venture down after a report that she offered disparaging comments on social media in 2016 and 2017 about work and social liberties dissident Dolores Huerta, NBC Los Angeles announced.
Jack Ciattarelli wins Republican nomination for New Jersey governor
Jack Ciattarelli will win the Republican nomination for New Jersey governor, CNN projected Tuesday, setting him up to take on Gov. Phil Murphy in the fall.
Ciattarelli, a former state assemblyman and the establishment-backed candidate, pushed out three other Republican candidates – engineer Hirsh Singh, pastor Phil Rizzo and previous Franklin Mayor Brian Levine – to win the party's nomination.
While he was the leader in Tuesday's GOP contest, Ciattarelli presently faces a fight against Murphy, the top favorite in the current year's race. The sitting governor, who ran unopposed in the Democratic primary, is well-positioned to break a New Jersey streak that started in 1989 of electing a governor from the party opposite of the sitting president, a year after Joe Biden won the state by 16 percentage points.
Ciattarelli was by a wide margin the best-funded candidate in the Republican race, raising $7 million while none of his opponents had reached the $1 million mark. With supports from each of the 21 province Republican associations in the state, he additionally profited with prime placement on the ballot.
On the campaign trail, Ciattarelli zeroed in generally on how he'd take on Murphy, featuring tax policies and the Democratic governor's handling of the Covid pandemic. Be that as it may, his campaign signaled it saw his history of criticizing former President Donald Trump as a vulnerability: Ciattarelli attended a "Stop the Steal" rally, and was sponsored by Rep. Jeff Van Drew, a former Democrat who exchanged gatherings and turned into a staunch Trump partner.
Ciattarelli additionally named his leading rival Singh, a "fake MAGA candidate" in an advertisement, where his campaign cast Singh as a rival of law enforcement officers and featured a 2014 Facebook post in which Singh wrote in light of the killing of Eric Garner that "police terror must stop."