Trump leads Biden by 5 points in National Polling Math – 10 Reasons Trump will beat Biden in a Landslide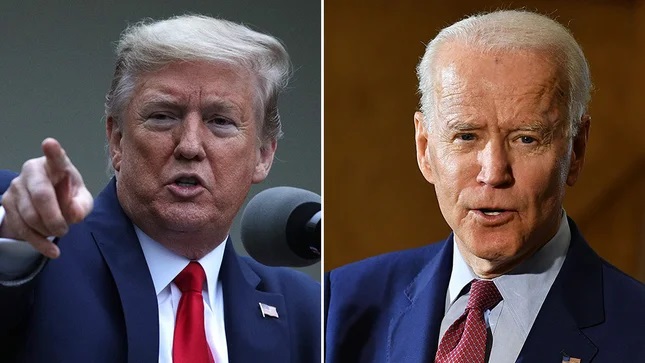 The only way to predict the 2020 election is to use the math from the 2016 election. The most accurate polls in 2016 were the IBD and the Rasmussen Poll.
National polls now have President Trump up 5 points from his polling numbers on election day 2016. Trump has 47% compared to the 42% he had in 2016.
One anonymous voter said, "I would never admit to wanting Trump in a survey". The voter implied that she is frightened that they might come hurt her or her children. Since protesters have been burning down churches, the Virgin Mary, and vandalizing Jesus and tearing down statues of Hispanic leaders such as Columbus, many voters are angry about the small 1% of the liberals who are leaning toward fascist styles of Communism and Bolshevism.
Using the 2016 math, Trump is set to win the same 30 states that he won in 2016, and will probably add Minnesota, Colorado and even Nevada.
10 More Reasons Trump Will Win
1) Trump's Vision – Trump's clear vision and policies have led to peace, prosperity, and no senseless wars. The creation of fair policies on immigration, trade, and energy independence have boosted the confidence of Trump voters and libertarians. Anyone can take 15 minutes to read President Trump's Mt. Rushmore speech and his July 4th speeches to better comprehend his long-term policies, strategy, vision, and mission.
2) The Secret Trump Voter: A Pennsylvania Monmouth Poll shows (57%) believe there are a number of so-called secret voters in their communities who support Trump but won't tell anyone about it. In 2016, that percentage was about 5% but it could be as high as 10% this year. The IBD Poll has Trump and Biden tied in May, and Biden up in July, but again, Trump voters are abstaining or not reporting.
3) No 3rd Party – There is no viable 3rd party candidate in Pennsylvania, Michigan, Colorado, Texas, Arizona, New Mexico, Minnesota, Florida, Ohio and many other states. Trump's Republican support appears to be up over 5% in averages since 2016 which is a huge amount of enthusiasm and republican votes.
4) Peace and Prosperity: After many years of war and waste of spending offshore, working folks want Trump to continue to invest money in the health system, education, and infrastructure.
5) Promises Kept: The president has followed through with his promises and has greater than 90% support in his party according to latest Gallup Polls up an average of 5% from 2016.
6) Ohio and Florida: In 2018, Republicans won the governorship of Ohio and Florida. This is important as turnout was down in 2018. However, in 2020, the suburban vote will turn out in full again to support mainstream worker candidates such as Trump. If Democrats can present a better case for working families, they may gain support, but only time will tell.
7) Trump Diverse Support at a High: Trump's support among workers and minorities including Hispanics and others has dramatically surpassed beyond Bush, Romney, and others. If Trump's minority support holds up next year, they will render Trump unbeatable in November of 2020. Trump is presently polling higher than any other republican with minorities.
8) Proof of Failed Media Polls 2016 – Major news organizations and their experts said that Hillary Clinton had a 91% chance of winning in 2016. These old media outlets unwittingly misled their readers for over a year with polling that was horribly flawed. Clinton and her allies lost several billion dollars in campaign money in the 2016 election.
9) Biden Health Problems – Mr. Biden can't participate in the debates with Trump due to ill-health. Biden had 2 brain surgeries and there seems to have been a later brain injury after 2018 due to a facelift or other accident.
10) Biden's pick for Vice President – Biden and his VP pick creates vast problems for all voters. A pick from California or Illinois adds nothing to his electoral potential. Even Senator Warren was caught taking minority jobs from Hispanics and African-Americans for almost 40 years before being exposed that she was not a person of color.
If history is a lesson, the competent Senator George McGovern lost in the biggest landslide in history to President Nixon in 1972. President Nixon won 49 states and 520 electoral votes, and George won 17 votes. Nixon won on a law and order platform which was dedicated to jobs, safe streets, health care, elder care and social security, environmental protection, mitigating crime, border control and stopping tainted drug death, ending senseless wars, & limiting nuclear proliferation.
With the US Senate in 2020, it is believed that candidates like Senator Cory Gardner will win 50% or more of the Colorado vote because there are no viable independent or alternative republicans on the ballot and his strong Hispanic & Italian support. Hillary lost the popular vote in Colorado and in various other states in 2016 while still winning the electoral votes. Also, republican on the ballot for Senator in Arizona and New Mexico could also win as Trump is simultaneously on the ballot and the alternate-republican candidates are not on the ballot this year who sucked up 3-9% of the vote in 2016. These 2016 independent votes lean republican and might saliently sting the democrats in 2020.
The 2020 Prediction ? As of today, based on the existing economic and global variables, Trump wins 32 states or more to win the presidency again in 2020. That would be the 306 electoral votes Trump won in 2016, plus 9 from Colorado, and 10 from Minnesota. Thus, a predicted win by Trump by 325 electoral votes for Trump to his opponent's Biden's 213 electoral votes. Trump could also beat Biden in New Mexico and Nevada also as those votes in these 2 states were very close in 2016 and 3rd party candidates boosted Clinton to win 5 states that she may have lost without the alternative 3rd party republican candidates on the ballot.
Citations and Sources
Tracking Poll – https://www.rasmussenreports.com/public_content/politics/trump_administration/prez_track_jul16?fullbrowser
Minority Support https://www.newsbreak.com/news/0OCpjylZ/tim-scott-predicts-black-support-for-donald-trump-to-increase-by-50-percent-in-2020
New York Times Experts say Clinton has 91% chance of Winning. http://www.nytimes.com/newsgraphics/2016/10/18/presidential-forecast-updates/newsletter.html
Secret Trump Vote – https://www.monmouth.edu/polling-institute/reports/monmouthpoll_pa_071520/
Joe Biden Brian Surgeries and Facelifts  –  https://www.washingtonexaminer.com/news/its-obvious-cosmetic-surgeons-say-biden-had-facelift-before-2020-campaign
Biden Brain Surgeries https://www.washingtonexaminer.com/news/campaigns/surgeon-who-operated-on-joe-biden-hes-better-now-than-before-brain-surgery
Nixon 1972 Platform – http://www.4president.org/brochu…/1972/nixon1972brochure.htm
Trump beats Romney with Minorities – https://www.forbes.com/sites/aviksaroy/2016/11/19/man-bites-dog-trump-did-better-with-minorities-than-mitt-romney-did-in-2012/#67a5b3bc35fd
Vladimir Putin signs law permitting him two more terms as Russia's president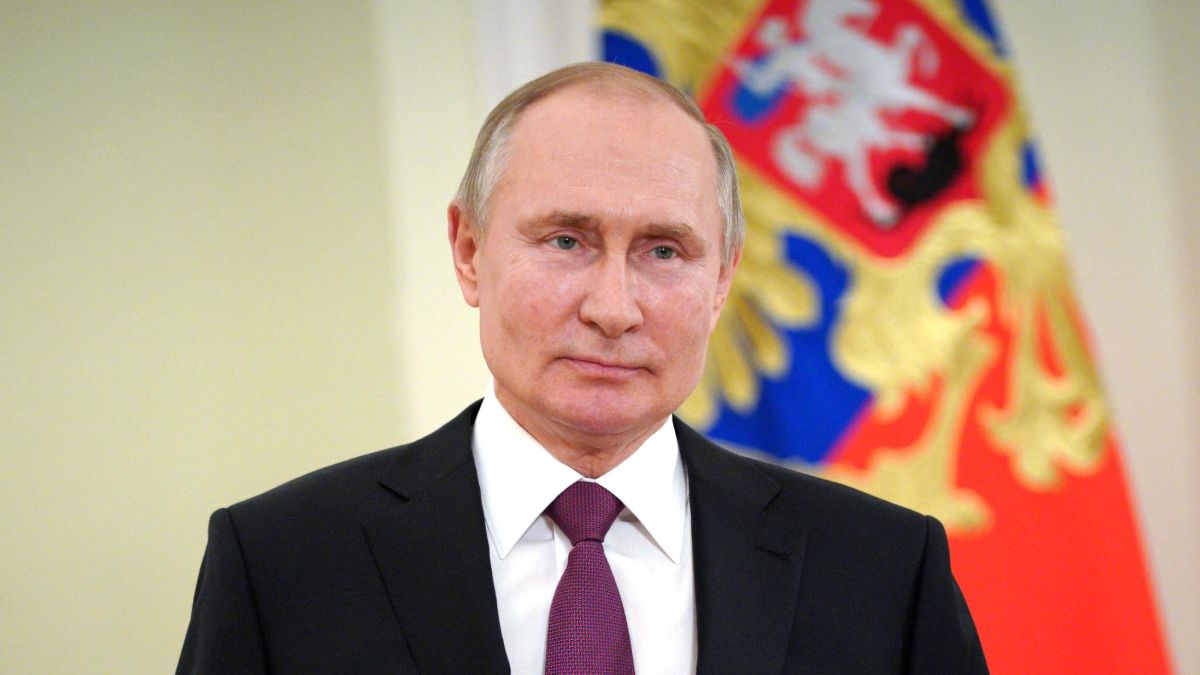 Russian President Vladimir Putin on Monday marked a law permitting him to conceivably clutch power until 2036, a move that formalizes constitutional changes endorsed in a vote a year ago.
The July 1 constitutional vote included an provision that reset Putin's past service time limits, him to run for president two additional occasions. The change was elastic stepped by the Kremlin-controlled legislature and the important law signed by Putin was posted Monday on an official portal of legal information.
The 68-year-old Russian president, who has been in power for over twenty years – longer than some other Kremlin leader since Soviet dictator Josef Stalin – said he would choose later whether to run again in 2024 when his present six-year term ends.
He has contended that resetting the term tally was important to keep his lieutenants zeroed in on their work work instead of "darting their eyes in search for possible successors."
The constitutional amendments likewise emphasized the primacy of Russian law over international norms, outlawed same-sex marriages and mentioned "a belief in God" as a basic belief. Almost 78% of electors affirmed the constitutional amendments during the balloting that went on for a week and finished up on July 1. Turnout was 68%.
Following the vote, Russian lawmakers have imprisoned the country's most prominent opposition figure, Alexei Navalny.
The resistance censured the established vote, contending that it was discolored by boundless reports of tension on electors and different inconsistencies, just as an absence of straightforwardness and obstacles preventing free observing.
In the months since the vote, Russia has detained the country's most unmistakable resistance figure, Alexei Navalny.
The 44-year-old Navalny was captured in January upon his get back from Germany, where he went through five months recuperating from a nerve-agent poisoning that he faults on the Kremlin. Russian specialists have dismissed the accusation.
In February, Navalny was condemned to 2 1/2 years in jail for abusing the particulars of his probation while convalescing in Germany. The sentence stems from a 2014 embezzlement conviction that Navalny has rejected as fabricated – and which the European ourt of Human Rights has administered to be unlawful.
His group says Navalny had lost a substantial amount of weight even before he began a yearning strike Wednesday to fight specialists' inability to give appropriate treatment to his back and leg pains.
Navalny complained about prison officials' refusal to give him the appropriate medications and to permit his doctor to visit him. He additionally fought the hourly checks a gatekeeper makes on him around evening time, saying they add up to lack of sleep.
In an Instagram post Monday, Navalny said that three of 15 individuals in his room at the penal colony were diagnosed with tuberculosis. He noticed that he had a solid hack and a fever of 38.1 Celsius (100.6 Fahrenheit).
Later on Monday, the paper Izvestia carried a statement from the state penitentiary service saying Navalny was moved to the jail province's sterile unit after a test discovered him having "signs of a respiratory illness, including a high fever."
In an acerbic note, Navalny said he and different detainees considered a notification on tuberculosis prevention that underlined the significance of strengthening immunity with a decent eating regimen – advice that contrasted with a prison ration of "glue-like porridge and frozen potatoes."
President Biden declares $2 trillion to infrastructure plan
President Joe Biden is utilizing his foundation intend to target President Donald Trump's signature economic achievement: his corporate tax cuts.
The organization is calling for $2 trillion in new spending on roads, bridges and a myriad other projects, and sticking big companies with the bill. To defray its cost, his plan would move back Trump's curtailed in the corporate tax rate — Biden would climb it to 28 percent, from 21% — while solidifying a minimum tax on multinational corporations.
That will make way for a split-screen debate in Washington in the coming months: Even as Democrats haggle over how to divvy up that $2 trillion, they will at the same time relitigate — and, they hope, overturn — the centerpiece of Trump's economic legacy.
While Democrats cast the tax increases as a matter of fairness, they additionally trust it will make great legislative issues. The coming battle vows to reignite a debate over how much corporate taxes matter for the strength of the economy, also the political fortunes of lawmakers.
"This bill is about both highways and highway robbery of our Treasury," said Rep. Lloyd Doggett of Texas, a senior Democrat on the tax-writing House Ways and Means Committee.
"The plan cracks down on corporate tax dodging — and that will help fuel and fund the roads, jobs, clean energy and broadband that American families have long needed," he said.
Republicans including Trump — and a significant part of the business community — quickly decried the plans.
"Biden's ludicrous multitrillion-dollar tax hike is a strategy for total economic surrender," Trump said in a statement Wednesday. "Sacrificing good paying American jobs is the last thing our citizens need as our country recovers from the effects of the global pandemic."
Republicans didn't get a lot of footing with their contentions for the tax breaks in any case — making the U.S. tax system more globally competitive — and Democrats accept they will not improve this time around, especially with millions out of work.
Simultaneously, increasing taxes is infrequently simple, and expanding rates on organizations ought to be something Democrats can unite behind — no little thought given their tiny majorities in the House and Senate.
Liberals have whined for quite a long time that the 2017 tax cuts parted with an excessive amount to large organizations, with its 40% decrease in the corporate tax rate and a major new allowance for investing into things like manufacturing factories and equipment.
Corporate tax bills plummeted in the wake of the law.
The average tax rate on huge organizations fell by the greater part to 7.8 percent in 2018, as per the authority Joint Committee on Taxation. Also, in spite of a solid economy before the pandemic hit, corporate payments to the Treasury tumbled to the lowest levels since the Great Recession.
Republicans have since quite a while ago defended the tax cuts, saying they were attempting to fix a dysfunctional corporate tax system.
Prior to their 2017 changes, the U.S. had the highest corporate rate among created nations, and numerous organizations were amassing benefits abroad to keep away from the assessment. A developing number of organizations were moving their headquarters abroad in purported inversions to escape the IRS.
Yet, that argument fell flat with numerous voters, and Democrats helpfully won the public relations battle pointing to things like an influx of stock buybacks on Wall Street.
Biden needs to expand the corporate rate to 28 percent, which is really what the Obama organization had proposed when he was VP. That would raise about $700 billion.
He would create considerably more savings with a flurry of other, more arcane, tax increments with acronyms like QBAI and FDII, that will not mean a lot to average voters however will set off alerts in corporate tax departments.
A large number of those provisions center around toughening a minimum tax known among experts as "GILTI" that Republicans forced as a feature of their 2017 law on U.S. organizations working abroad.
Biden would twofold its duty rate, wipe out a unique allowance against the toll and change how organizations approach ascertaining the expense, in addition to other things.
Leftists fight the focused on arrangements urge organizations to move their activities abroad, however the proof is not really clear on that score.
Venture and occupations in the U.S. expanded in 2018, the main year the Tax Cuts and Jobs Act was basically, as per JCT.
Conservatives say Democrats' arrangements will reproduce a great deal of the issues they were attempting to address since it would leave the U.S. by and by with a high corporate expense rate contrasted with other created nations.
Under Biden's plan, businesses would confront a combined 32.3 percent corporate tax, including state levies, which would be the most elevated among created nations in the Organization for Economic Cooperation and Development. (Barring the US, the normal corporate expense among OECD nations is 23.4 percent).
"Hastily changing the tax system purely for purposes of raising revenues will bring back inversions and foreign takeovers of U.S. companies," said Sen. Mike Crapo, the top Republican on the Finance committee.
The organization recognizes the risk of more inversions yet says it can address the issue through regulations while additionally pressing other countries to receive similar approaches to taxing corporations.
Rachel Levine makes history as first openly transgender federal official, confirmed by Senate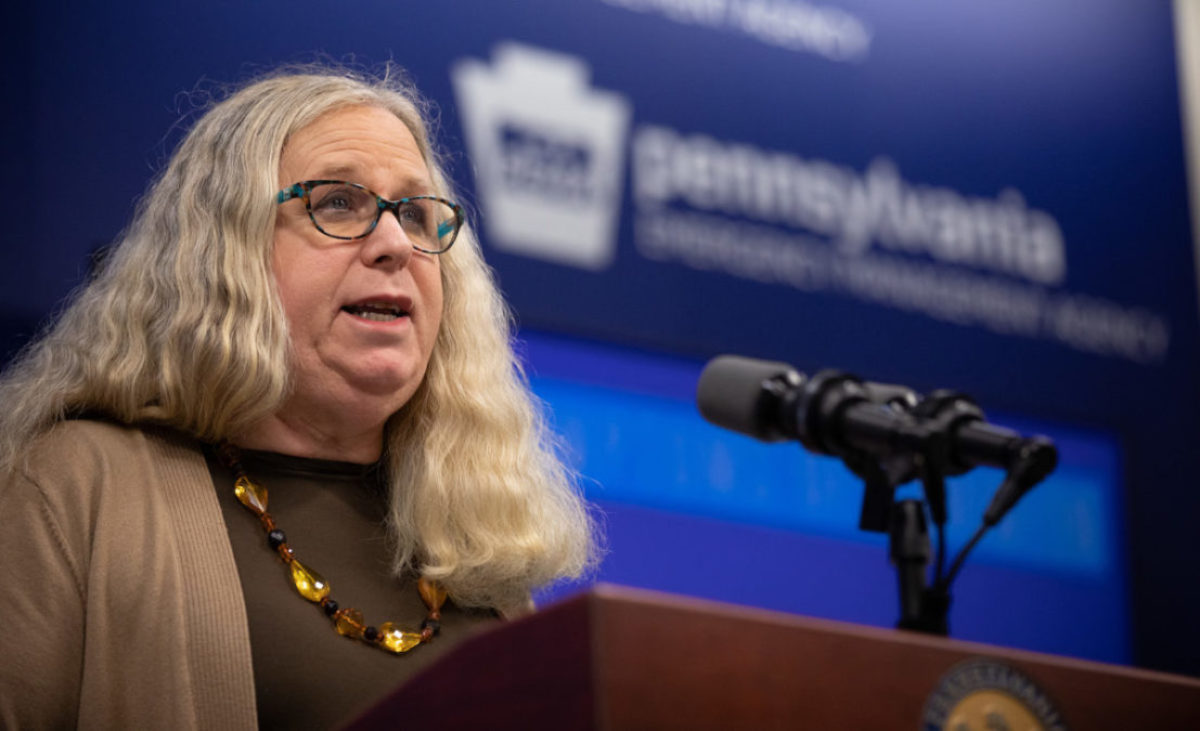 The Senate voted Wednesday to affirm Dr. Rachel Levine as assistant secretary for health in the Department of Health and Human Services. The vote is a set of history-making one: Levine is the first openly transgender federal official to be affirmed by the Senate.
The vote was 52-48 for her affirmation.
Levine was already Pennsylvania's secretary of health, where she led the commonwealth's COVID-19 response.
Prior to the vote, Sen. Patty Murray, D-Wash., asked her colleagues to help Levine's nomination, considering her a "trusted voice" for Pennsylvanians on issue, including opioid prescribing guidelines, health equity and LGBTQ health care.
Murray additionally noted the significance of the vote.
"I've always said the people in our government should reflect the people it serves, and today we will take a new historic step towards making that a reality. I'm proud to vote for Dr. Levine and incredibly proud of the progress this confirmation will represent, for our country and for transgender people all across it who are watching today," she said.
Levine started her medical career as a pediatrician at Mount Sinai Medical Center in New York, and she is a professor at the Penn State College of Medicine, where she instructs on points like adolescent medicine, eating disorders and transgender medicine. She is an alum of Harvard College and the Tulane University School of Medicine.
In an statement in January about the selection, President Biden said Levine "will bring the steady leadership and essential expertise we need to get people through this pandemic — no matter their ZIP code, race, religion, sexual orientation, gender identity or disability — and meet the public health needs of our country in this critical moment and beyond."
A month ago's affirmation hearing for Levine included confrontational addressing by Sen. Rand Paul, R-Ky., in which the administrator requested to know whether Levine accepts minors are fit for making "such a life-changing decision as changing one's sex," comparing sex reassignment procedures to "genital mutilation."
Levine replied, "Transgender medicine is a very complex and nuanced field with robust research and standards of care that have been developed and, if I am fortunate enough to be confirmed as the assistant secretary of health, I will look forward to working with you and your office and coming to your office and discussing the particulars of the standards of care for transgender medicine."
In her job as Pennsylvania's wellbeing secretary, Levine confronted "relentless comments and slurs" about her gender identity, Gov. Tom Wolf said in an explanation the previous summer.
Levine was beforehand the state's physician general, a post for which she was consistently affirmed.
"With very few exceptions my being transgender is not an issue," Levine revealed to The Washington Post in 2016. She said then that it's her work for which she needs to be known.
"I'm very confident in who I am," she said.