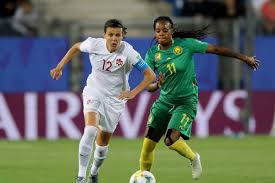 Cameroon Vs New Zealand Dream11 Prediction
Group E likewise brings to us a differentiating fixture to that of the Netherlands vs Canada, as New Zealand take on Cameroon. Both these groups have been basically thumped out of the tournament, with being the 'lucky loser' remaining their best option. They have a similar goal difference but Cameroon sit on a spot above New Zealand because of the one goal they scored in the Cup.
The two groups have an average set up, but New Zealand could nick a win in this clash.
Match Details
Match: Cameroon vs New Zealand
Date: 20th June 2019
Venue: Roazhon Park, Rennes, France
Competition: Women's World Cup 2019
Start time: 12 p.m. ET
Cameroon Vs New Zealand Dream11 Team
Formation: 4-4-2
Goalkeepers
Erin Nayler: I've picked the multi year old New Zealand global as my goalkeeper for the match. Nayler has involvement with the top level and has been comparatively better than her Cameroon contemporary.
Defenders:
Rebekah Scott: Scott has been the main positive for her defensive line. She gave an extraordinary performance against Canada winning the greater part of her elevated duels and handles. She can be what New Zealand need against Cameroon for any chance to qualify.
Ali Riley: Captain of her team, Riley is an assaulting fullback with outstanding stamina. She made the most clearances against Canada, and won every one of her duels against the Netherlands. She additionally has a decent intersection method, and can enlist assists.
Yvonne Leuko: She's the beginning left back of Cameroon and has had a leap forward time in this World Cup. While her group had pretty much been disappointing, Leuko has shown commitment and heart. She blocks a lot of shots through her smart positioning and does not get dribbled past easily.
Claudine Meffometou: Yvonne's fullback accomplice, Meffometou is an assaulting ideal back. She frequently leaves her defensive post to poach loose balls and heavy touches from the opposition and creates a lot of turnovers.
Midfielders
Gabrille Onguene(C): She's the scorer of Cameroon's just goal this term against the powerful Netherlands. Despite the fact that it fell off a misstep, Onguene has been a risk on the left flank in view of her unbelievable speed.
Raissa Feudijo: Cameroon's no. 8 has started only one game in the tournament but will most likely feature again for the team in the next match. She's an attacking midfielder who starts in the centre of the park progressing her way up the pitch. Raissa has an eye for goal and can unleash a power strike from some distance, too.
Betsy Hasset: Hasset starts on the left flank of a Midfield 4 for New Zealand. She's their best dribbler and can beat defenders with flair. The winger can also pick out a pass from the edge and get goals.
Ria Percival: Starting at central midfield for her team, Ria has insane stamina. She plays a Box to Box midfielder which means she can get into spaces from where she can attack the ball and finish chances. She also drops deep to help out her defence.
Forwards
Sarah Gregorius(VC): Veteran striker Sarah has been the first choice striker for New Zealand. She's performed better than her partner in attack, Rosie White. Her experience will be very important if the Kiwis want to overcome a stubborn Cameroon defence.
Marylse Ngo Ndoumbouk: Marylse completes my strike partnership upfront. I would've said she's been unlucky to not get a goal, but she's given more key passes than she has shots. However, her ability to pick out a pass makes her the perfect person to pair Gregorius.