Discovering 'Calling Out' Anjalts Tinkering Piano Ballad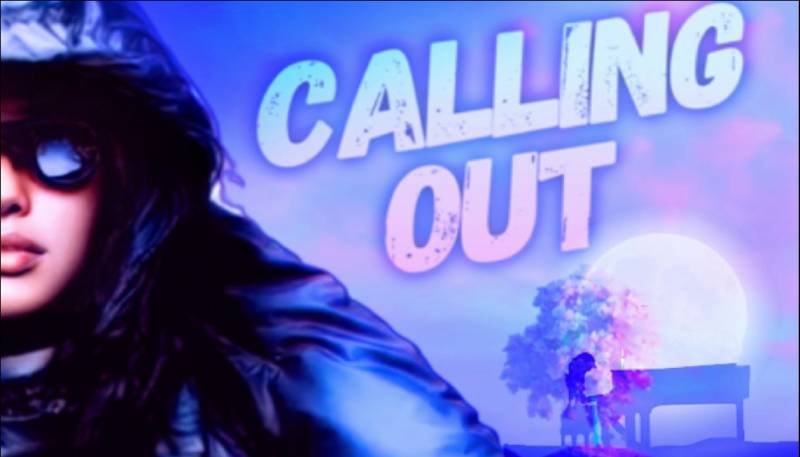 Trevor Wayne -Writer
Noise-canceling headphones on, and it's onto another round of new music Friday, scrolling and listening from all genres coming through the streaming platforms. A litmus test to the senses and one song stood out with an uncanny magical effect to hit repeat. The song is 'Calling Out' by multi-talent wunderkind Anjalts, an emerging super-shy artist I had the pleasure of meeting about a year ago when she released 'Somewhere in the Sky' and a bunch of other super releases. But this soft ballad of a quiet tinkering piano pulsates like a heartbeat against the thunder and raindrops lingering in the background filling up my headphones with sounds that immerse your noisy brain to just sit back, relax and let it in. Feel the prana flowing in like eternal sunshine of bliss, except it's a rainy thundering rainforest feels and Anjalts celestial voice calling out from afar. It's an intimate ballad right from the start. The effects composed by this rising star fuse a very different approach in a neo-pop psychedelic arrangement of atmospheric serenity not felt in a long time. And it just keeps getting better.
'Calling Out' is reshaping the way mixes are done to inspire the senses instead of turning up the volume of the boom in our ears to the point of deafening effects. Anjalts is an eco-aware artist/songwriter that exudes nature into what she creates with a consciousness of reminding us of the bigger picture, challenging our humanity as caregivers of the earth to do better. And why not? Isn't that what art is supposed to do?
Lyrically the song talks about time. Speaking to the artist on the phone, she had me wondering and getting all philosophical because it's hard not to, especially when you listen to her soft voice asking you a riddle like "what is the real wealth we as humans have?" I said my paycheck on Fridays *wink~ And the answer is Time! The choices we make in that little time-space are key. Her songwriting in verse one resonates:
Time
Is all we have again
I want to run away with you
Do you think we'll make it through?
Time
Is all we have left
I couldn't see what you were going through
I wish it was me and not you
Calling Out, Calling out to you
Anjalts music is like a therapeutic outlet especially learning about the struggles faced by young people today regarding depression and suicide rates impacting their daily lives. I do try 'not' to watch the news. Still, every time I peak on my smartphone slide over to see what's up. It is not complicated to understand the extraordinary challenges youngsters confront today, which probably weren't there 20 years ago.
'Calling Out' is magically uncomplicated and empowering.  It's a shout-out to start the dialogue of facing these hardships, and maybe we have to begin resetting our noisy brain back to nature.  A reminder from a down-to-earth artist breaking the mould for young people and what kind of future is in store for them.  It's an artist growing too in a chaotic time where escapism to deafening sounds seems easier than listening to the birds in the trees or the rain droplets on a rooftop.  Eventually, the noise, the hype and the lights died down, and there is only one more click to the next song in my headphone.  And in the distance, a tinkering piano improvisation of unpredictable sounds and a soft ethereal Anjalts voice 'Calling Out' to you.
Like a reset button to calm focus and subtle awareness. Like a breath of fresh air.
Listen to "Calling Out" HERE
CONNECT WITH ANJALTS
Official Website: https://anjalts.com
Instagram: https://www.instagram.com/anjalts/
YouTube: https://www.youtube.com/c/AnjaltsMusic
Song link: https://music.anjalts.com/calling
Trevor Wayne – Writer/journalist with articles on Google News sites, Art & Music Blogs, keeping it real for my readers looking for an alternative look at New Music, Art, NFTs, the underground Indie music scene, Radio alternatives that make the Music scene so much better.
Bijoy B K walks his path to gradual success and glory as a true-blue music artist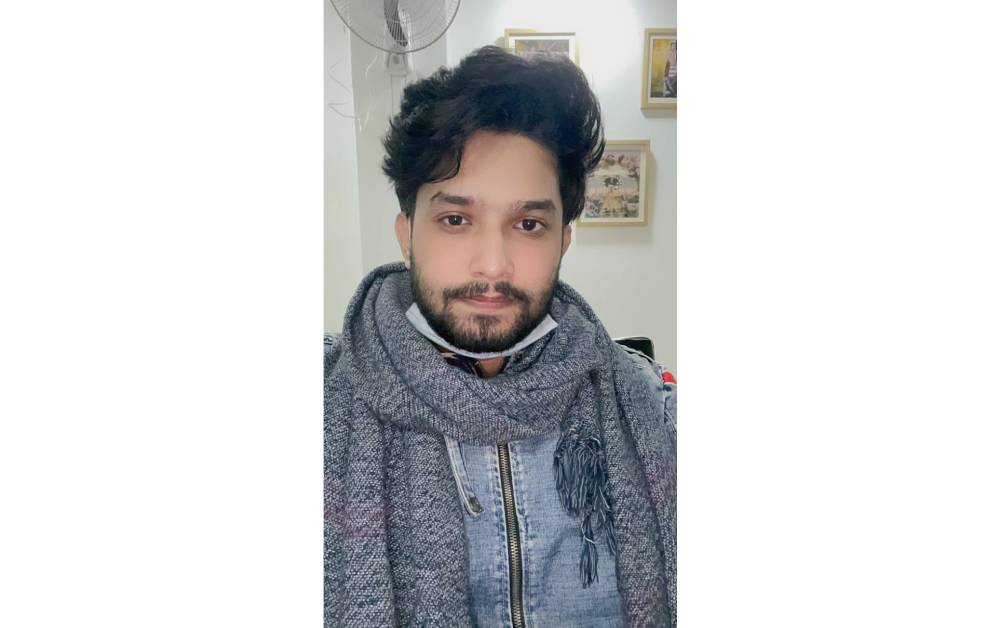 Even as a youngster, he has shown his A-game in the music realm, inspiring many other budding talents.
The world has witnessed the rise of too many talented beings working across different industries of the world, but there have been a few rare gems that have shone brighter than the rest and have proved their mettle in more ways than one. It is essential to put more light on these talented beings, who mainly belong to the younger brigade and who go ahead in instilling more hope, positivity, and motivation in others to do and be their best. Doing that in the world of music has proved to be an altogether different challenge, and still, there have been self-made music artists like Bijoy B K who have made it all look effortless in their music art.
Bijoy B K today stands tall and unique as a one-of-a-kind music artist who has gone ahead truly astonishing people in Bangladesh with his euphonic sound as a vocalist and his innate musical skills as a modern-day music artist in the nation. The 1995-born in Dhaka, Bangladesh, today has risen beyond being a songwriter, singer, and performer and has also shown his excellence as a YouTuber. He studied at the University of Rajshahi, Bangladesh, and it was only in 2020 that he felt more inclined toward music, which changed his life since.
He began learning music composition and making instrumental music, and honing his skills constantly today has turned him into an independent artist. He debuted with a song in March 2021, and now all his songs are available on top streaming sites of the world, like Spotify
With songs like Night Drive, Life is like a long road, A sound like cloud, River valley of dream, The mid night poll, Drummer boy, Short beats – 1st, Epic evening, On my way moderate and Instrumental soft – instrumental version, he has indeed won hearts of listeners and music lovers, especially with his recent release Jony Khandaker's popular music video 'Poran Bondhu,' which has helped him garner massive momentum and name in the Bangladeshi music scene.
Besides being a rising music artist, he also owns his own company Bijoy B K Limited (https://bijoybk.com/), through which he has emerged as one of the top digital marketers in Bangladesh.
There are many new exciting projects that the young talent is working on in music, and can't wait for listeners to hear them.
Bipasha Basu posts their first photo together and provides a sweet recipe for her preparation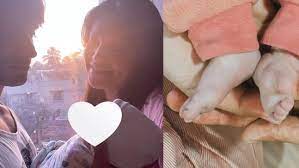 After welcoming daughter Devi, new mother Bipasha Basu shared the first family portrait on Instagram. In the caption, she provided her "recipe for making a sweet newborn angel." However, the actor added an emoji to the baby girl's face.
Devi is being held by Bipasha and her actor spouse Karan Singh Grover in the picture. The couple's cheeks were beaming as they couldn't take their eyes off of their infant. At dusk, the photo was taken from a balcony.
Bipasha added, "Our recipe for making a darling newborn angel," as the caption. 1) One quarter cup each of you and me; 3) A half-cup of Ma's love and blessings (4) Topped with greatness and magic 5) Three droplets of the essence of the rainbow, angel dust, unicorn sparkles, and all that is divine.
6) Seasoning: Adorable and delectable according to taste
On social media, they shared their daughter's name and the news of her birth in November. Bipasha shared a picture of Devi's feet along with the date of the baby's birth, 12.11.2022, and her name, Devi Basu Singh Grover. She wrote in part, "Ma is divine and she is the physical manifestation of our love and blessings.
At Karan Johar's Mumbai eatery, Sonam Kapoor dazzles in a blue ensemble while Aryan Khan and Ananya Panday dress up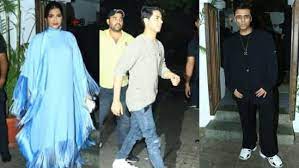 At the Neuma Restaurant in Mumbai's Colaba, Sonam Kapoor, Aryan Khan, Ananya Panday, Shweta Bachchan, Rhea Kapoor, Karan Johar, and Shanaya Kapoor were spotted. On Friday night for a dinner party, a number of other celebrities were also seen at the location, including Manish Malhotra, Sharvari Wagh, Seema Khan, Tripti Dimri, Maheep Kapoor, Nandita Mahtani, Dhairya Karwa, Neha Dhupia, and Angad Bedi.
Sonam dressed appropriately for the event with a long sky-blue dress and white heels. Before entering the eatery, the actor posed for the photographers. A light brown hoodie, jeans, and sneakers were worn by Aryan Khan. He arrived at the location, parked his car, and then entered the restaurant.
When Ananya Panday came at the restaurant wearing a short red bodycon dress and white heels, she struck many postures for the photographers. Rhea was spotted wearing a black pair of pants, a dark purple blazer, and matching heels. Shanaya Kapoor arrived at the restaurant sporting a white dress and neon green heels.
In addition to this, she will be starring opposite Siddhant Chaturvedi and Adarsh Gourav in Farhan Akhtar's Kho Gaye Hum Kahan. The official release date of the movie, which is being directed by rookie Arjun Varain, is still pending.