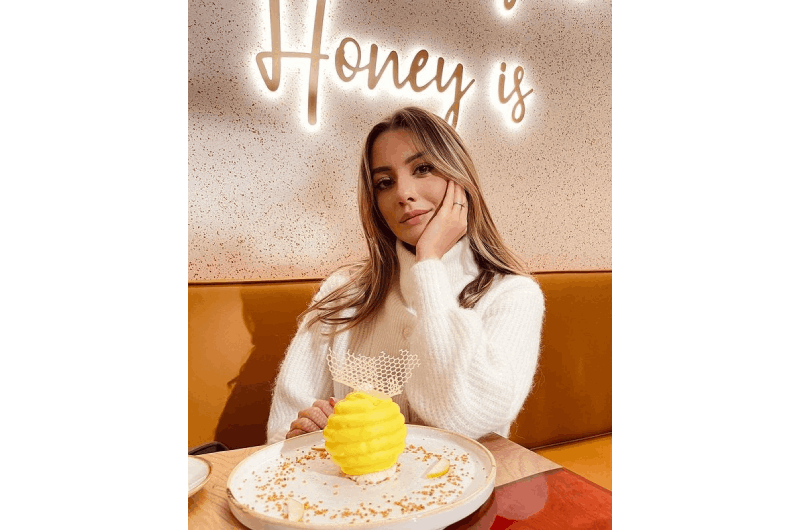 Mina Habchi is a famous London-based fashion and lifestyle influencer, known for her style and lifestyle tips. She has been sharing with her followers the best coffee shops, restaurants and trendy spots around the world, but her focus remains in London where she's been living for more than 8 years.

Thanks to her previous student part-time jobs in hospitality, Mina Habchi partnered with HIVE Selfridges, a newly-opened restaurant in one of the most famous department stores in London, Selfridges. Her aim was not only to contribute to the creation of a beautiful and delicious restaurant, but also to get out of her comfort zone and invest in a physical place, with sustainability at the core of the business.

Her fine taste and love for honey and coffee brought her to this restaurant venture with a special focus on honey, honey-based cuisine, cheese, and of course, bees…
A place for honey lovers, but not only…
HIVE Selfridges is, first of all, a place for excellent food. If you fancy honey and cheese pairing, or a great and delicious afternoon tea with your friends, HIVE is made for you. One of the restaurant's specialties are the salmon or the scallops with some honey flavours.
An Instagrammable spot for lifestyle and honey lovers
As planned, HIVE Selfridges is not only a place for honey lovers, but also a very Instagrammable spot with a beautiful and well-designed space. Instagram lovers and lifestyle influencers will undoubtedly fall in love with this cute spot on the 3rd floor of Selfridges, in the middle of the lingerie and beachwear sections. Moreover, the HIVE Signature dessert will certainly be included in the most Instagrammable desserts in the world.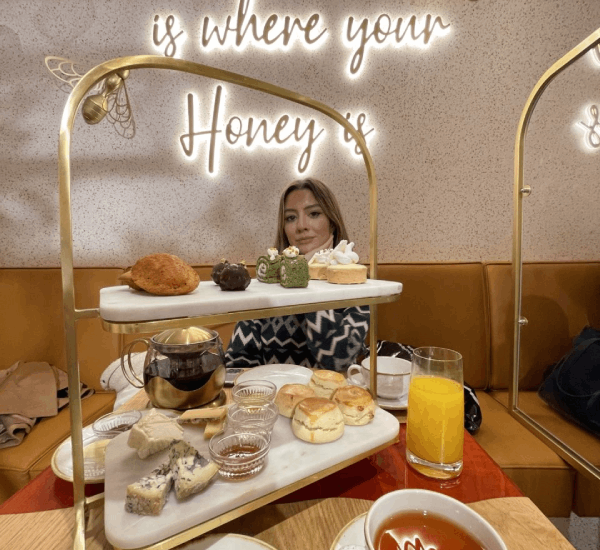 Beehives in front of the restaurant to have 'Made In Selfridges' honey
Another original, cool and very impressive aspect of HIVE Selfridges are the three beehives placed on Selfridge's rooftop in the middle of the 3rd floor and in front of the restaurant. This means that a beekeeper will regularly come and make sure bees will produce honey made in Selfridges for HIVE: 'this is definitely one of the most exciting facts about the restaurant. I would have never thought we would be able to do this, but we did it eventually!" says the owner Khalid Samata. 
You can book your table at HIVE Selfridges on: https://www.opentable.co.uk/r/hive-restaurant-selfridges-london or visit HIVE's website on: https://www.hiverestaurant.uk/
For more fashion tips and outfit ideas, you can follow Mina Habchi on her Instagram page (https://www.instagram.com/minahabchi) or read her blog on which she posts regular articles on travel, lifestyle and fashionable outfits (https://minahabchi.com/).