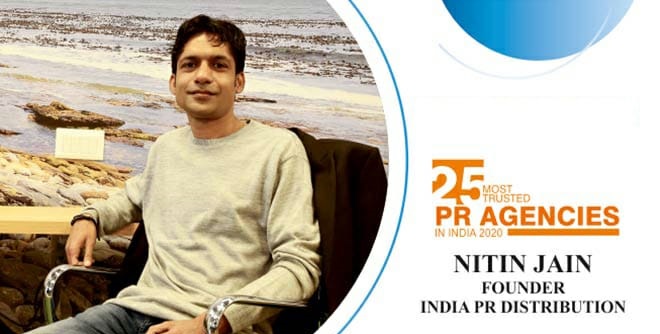 Submit your Press Release online with India PR distribution for comprehensive media coverage. In a recently published list by the CEO magazine of the 25 most trusted PR agencies of India in the year 2020, India PR Distribution secured a coveted position. This young and dynamic agency under the leadership of Founder Director – Nitin Jain, offers unique and customised PR services to its clients.
The clients of India PR Distribution have an access to all media platforms including Print (both International and Regional) magazines, blogs, online and digital. With an experience of over 15 years in all the aspects of marketing and public-relations, Nitin's focussed expertise lies in the digital media. Nitin Jain and his team at India PR Distribution are very keen to offer the immense opportunities of this platform as the fastest, surest and most result oriented way to meet client expectations and demands.
"The team at India PR Distribution is geared to take on work 24×7 and deliver excellence in service and results.", says Nitin Jain.
India PR Distribution's satisfied list of customers includes top names from the corporate world and start-ups, as well as established and new authors, film producers, singers and digital marketing professionals.
Nitin along with his team is committed to meeting and even surpassing client expectations with their cost effective and targeted press release submission services.
Visit www.indiaprdistribution.com to submit your Press Release.