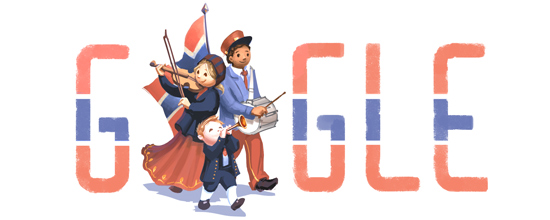 Today's Doodle celebrates Norway's Constitution Day, also called Syttende Mai. Comemmorating the day in 1814 when the Scandinavian nation's constitution was signed, this occasion is a festive event delighted in by children and adults alike.
Basically Norway's answer to the Rio Carnival or St Patrick's Day, a party atmosphere prevails with no trace of the military triumphalism or jingoism that can complicate equivalent occasions elsewhere.
The festivities start early for grown-ups with a 7am champagne breakfast, commonly additionally included fried eggs, salmon and crisp portions of bread, before revelers hit the roads to enjoy the marches, games and rousing public speeches.
Women wear the customary clothes of their ancestors, while the men, more reserved, typically opt for their best suits and an occasional top hat.
The royal family spend the day
waving to party-goers from the Royal Palace gallery in Oslo, before walking around the capital's parks to greet well-wishers.
The nation's parade passes through Oslo city centre and is commonly comprised of as many as 100,000 people.
The shops may be closed but alcohol is nevertheless in abundance.
Kids specifically relish Constitution Day as they are commonly given carte blanche to eat as much ice cream and as many waffles, cakes and hot dogs as they like, hang the consequences.
The day was first celebrated by students post-1814 yet was prohibited inside and out somewhere in the range of 1820 and 1829 compelled from King Karl Johan of Sweden while the two neighbors were united.
It turned into a set up convention in 1833 poet Henrik Wergeland gave a public speech honouring Norwegian heritage beneath a monument to reformist government minister Christian Krohg.
Constitution Day's close association with children began in 1864 when author Bjornstjerne Bjornson, who wrote the national anthem, suggested staging a parade just for primary school pupils, representing Norway's bright future.
The day is also celebrated by Norwegian ex-pats around the world, particularly in Midwestern America.