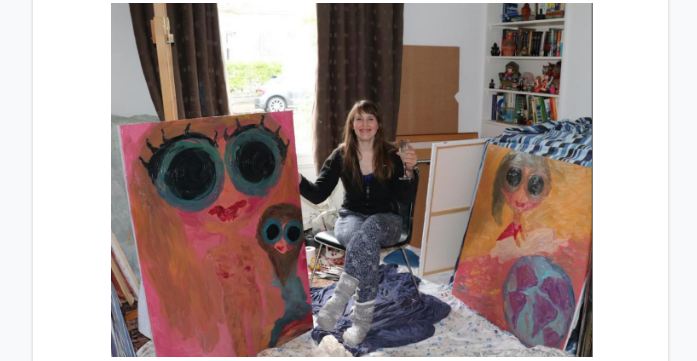 In early 2020, the COVID-19 pandemic brought the world to a standstill because people had to stay indoors for their own safety as well as for the people around them. This way, the virus has a lesser chance of infecting numbers and spreading rapidly.
But since people were confined to their households, they had to find ways to stay productive amid the ongoing health crisis.
Polish artist Bolli Blas dealt with the pandemic by immersing in her art which gives prominence to the bright-eyed characters that visualize the artist's version of a utopia that's free from prejudice, pain, and violence.
"At the moment, aside from my art, I also tutor several young, aspiring artists to help them discover their way in the art world and avoid some of the pitfalls which have happened to me. I also engage, virtually, in some charity work, mainly with children in an orphanage in Uganda," she said.
Bollis Blas also took the time she had on her hands by staying physically active.
"I also love to keep active but I always find that traditional exercise bores me so I do pole and hoop fitness which I find both to be a lot of fun but not as much fun as they used to be. It's difficult to keep motivated by exercising alone with the fitness studio closed," she said.
How the Pandemic Affected Her as an Artist
Since the pandemic, Bolli has been very much immersed in her paintings. But this hasn't been an easy endeavor for her during the global health crisis.
"The pandemic affected exhibitions as some of them got canceled or postponed and those that still go ahead don't see as high an attendance as they did prior to the pandemic. I don't get the chance to meet too many people these days so I work a lot from memories. There have been shipping delays both for my art and for the supplies I need," she shared.
Traveling to New Horizons
With a vaccine against COVID-19 and with international borders slowly opening once again to eventually return to normal, the Polish artist hopes that she can again enjoy her love for traveling.
"I love to travel and meet new people but this, unfortunately, wasn't possible much in the past year. But I'm definitely hoping to continue to meet inspiring people once the pandemic is over," Bolli said.
However, Bolli isn't the only one who's set to enjoy new horizons.
This 2021, she's planning to continue exhibiting her artworks but in new destinations to start reaching out beyond New York and European destinations and to share her art in smaller places where they wouldn't normally have too many art shows.
"I have a solo exhibition with a working title of 'Bolli on a Wally' coming up in Madrid in June 2021. I will be making little Bolli sculptures for this project for the very first time to display along with my paintings," she shared. 
Stay updated on Bolli Blas by checking out her Instagram account.