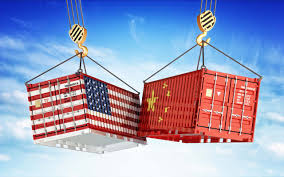 The US-China exchange war is turning crazy, spreading into new regions.
At any rate that is the impression one gets, following two or three moves by Washington on Tuesday, increasing the exchange war game with Beijing. Like boycotting a few innovation facial-acknowledgment and man-made brainpower (AI) innovation organizations, including Hikvision, Megvii Technology, iFlytek Co and SenseTime.
This implies these organizations can't get US innovation, and they can't offer their items to US showcases either.
At that point there's U.S. Express Department's choice to force visa limitations on some Chinese authorities for submitting acts that Washington thinks about inadmissible.
Ted Bauman, senior investigator and business analyst at Banyan Hill Publishing, considers Washington's to be moves as a push to apply most extreme weight on Beijing, as exchange discussions are going to continue.
"The latest blacklist announcement is consistent with the Trump administration's strategy of seeking new sources of leverage in the ongoing trade negotiation," he says. "I don't think it's a coincidence that this announcement came hard on the heels of leaked reports that they are considering limiting U.S. investor capital flows to Chinese companies. It's as if the administration has realized that the Chinese are not going to back down in the face of increased U.S. tariffs, so they are casting around for other ways to threaten the Chinese."
What's more, that is by all accounts the case on the Chinese side. "A US decision to blacklist 28 Chinese entities, which was announced shortly before high-level Chinese and American officials meet in Washington for a new round of trade talks, is typical of the Trump administration's trade talk tactics and showed the US was seeking to benefit by further pressuring China, Chinese experts warned on Tuesday," state Huang Ge and Song Lin in a Globaltimes publication.
Bauman believes that the boycott is really a "smart thought." But they are worried about the planning. "The problem is that the two countries' economies are heavily intertwined. Concerns about these issues should have been raised long ago when the Chinese had less leverage," they says. "As many people are beginning to realize, by ignoring these things for so long, the U.S. has helped to create the Chinese "monster" and it may be too late to do anything about it."
In the interim, Bauman feels that Washington's methodology may not work. "The problem is that this is all starting to appear a little desperate, and the Chinese have picked up on that," they says. "The most recent news from the Chinese side is that they're are no longer interested in a grand bargain on trade, and will only focus on short-term issues."
I don't get it's meaning for the fate of exchange talks? "That means the Chinese either want to get this current round of discussions over with so they can wait for a new U.S. administration to talk to, or they are openly mocking the Trump administration by saying, 'go ahead and do your worst, we don't care,'" they finishes up.
In either case, Washington is making it more uncertain that any arrangement will be come to between the different sides at any point in the near future. It's simply a question of opportunity before Beijing concocts its very own boycott of US firms, and forces its very own confinements on American authorities.
Money Street is starting to detect this prospect, auctioning off after Washington reported its new moves, shutting pointedly lower for the afternoon.