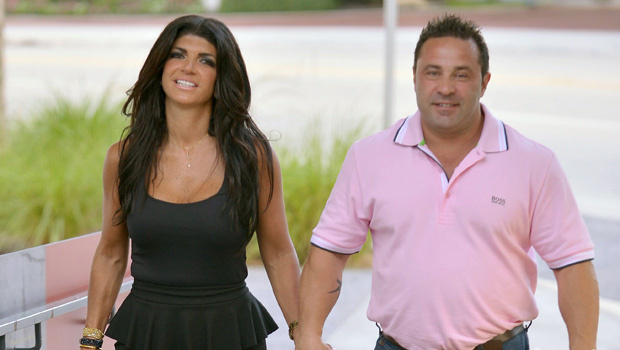 Yes, Juicy Joe is traveling back to Italy.
He is married to Tesresa Giudice and has been allowed to return to his motherland as he awaited the final decision about his deportation case. On September 24, Joe filed a request about the same to the US Immigration and Customer Enforcement to release him from the custody and allow him to fly back to Italy. A couple of judges signed the request off on Wednesday. They denied his request of allowing him to stay in the USA anymore.
According to the request made by Joe, his family attorney said that "Joe Guidice asks for permission and wishes to be released from the custody so that he may begin working for and contribute to his wife and four kids financially however it is unknown that when he will actually fly back.
Teresa has not released any statement about the same so far. She has been married to Joe for 20 years. They are parents to Audriana (10), Milania (14), Gabriella (15) and Gia (18). Yet last month, the star of the Real Housewives of New Jersey admitted and shared that her family is going through real sad time.
She said that it is a sad time whatever my husband is facing and we are trying our best to work it out. The most significant thing in all this is that we have four daughters who mean a lot to us. Therefore, I am hoping that Joe makes it stay in the United States of America.
However, when explored deeper, it was found that Joe is more than willing to go back home to Italy. Since he has been released from prison in March for all the charges against him, he shared that he wants to fly back to his native country.
Joe was found accused of hiding his fortune in filing bankruptcy. He was also accused of not filing the tax between the years 2004 and 2008. Teresa was also indicated of some charges and was released from the prison back in 2015 after serving an eleven-month sentence for the fraud.
Last October, an immigration court asked to deport Joe to have homeland once he serves the prison. Though Joe has lived in the USA since his childhood, he did not obtain American citizenship. According to US law, immigrants can be deported to their native countries if they are found to be convicted of an aggravated felony, or a crime of moral turpitude.
ICE took Joe in custody after being in 41 months sentence for fraud and conspiracy charges. He has been living in Western Pennsylvania since his release. In May the star was allowed to continue living the US while he awaits his fate. At that time, the star shared that, "we are grateful that the court has granted the stay." Joe has been looking forward to fighting this to the very end. He added that there is nothing important to him other than to returning home to his family, his kids, and his wife of course.